Tuesday 03 June 2014 16.35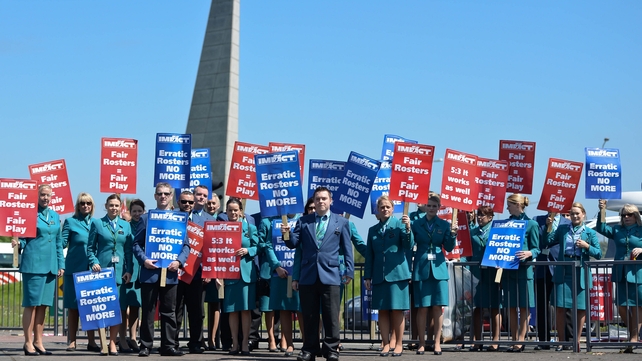 Cabin crew have been docked one day's pay for taking part in Friday's strike
Aer Lingus has withdrawn staff travel privileges from all cabin crew who participated in Friday's strike over rosters.
Staff at the airline have been entitled to flights at reduced fares for themselves and their families.
Talks between management and the cabin crew union IMPACT are due to take place tomorrow.
However, in a letter sent to staff at their homes, the company informed them that the flight privileges were being withdrawn with immediate effect.
The company did not say when privileges might be restored.
It also notified cabin crew who went on strike that they will lose a day's pay in the next payroll run.
IMPACT has said it would not be commenting on the withdrawal of the travel privileges.
Ryanair Chief Executive Michael O'Leary had called for sanctions for cabin crew whose strike had grounded almost all Aer Lingus flights.
He had specifically urged management to withdraw the staff travel privileges.
TOP STORIES

RTÉ News – Business Headlines