Wednesday 23 July 2014 07.27
1 of 2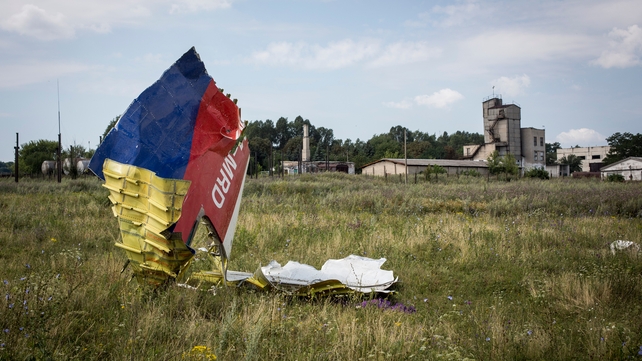 Flight MH17 crashed over eastern Ukraine on 17 July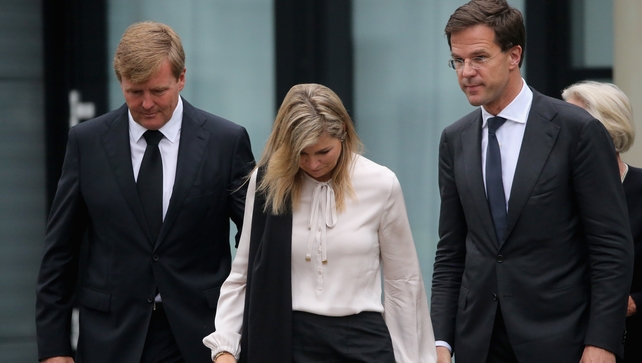 King Willem-Alexander, Queen Maxima and Dutch Prime Minister Mark Rutte (R) leave the Congresscentrum, Utrecht, after meeting relatives of the victims of Malaysia Airlines flight MH17
The Netherlands is observing a day of national mourning as the country prepares for the return of some of the 193 Dutch victims from the Malaysia Airlines flight MH17 who died in eastern Ukraine.
There were 298 passengers and crew on board Flight MH17 when it crashed en route from Amsterdam to Kuala Lumpur on 17 July.
The bodies will be flown into Eindhoven airport where they will be met by the Dutch Prime Minister Mark Rutte as well as King Willem Alexander and Queen Maxima.
They will then be transported to the the city of Hilversum for identification.
Mr Rutte has said the process of identification could take months.
Flags on public buildings across the Netherlands are flying at half staff today, as relatives of those who died on flight MH17 prepare to mark the return of the bodies.
When the military transport plane lands at Eindhoven airport this afternoon, a minutes silence will be observed by the Dutch royal family, senior politicians and representatives of some of the 10 other nations whose citizens were killed.
The delay in repatriating the bodies has caused widespread anger in the Netherlands and this was compounded last night when Dutch Forensics expert Jan Tuinder said 200 bodies had been located, rather than a figure of 280 claimed by rebels.
Mr Tuinder said his investigators would return to the crash scene and not leave until all of the remains had been recovered.
A representative of the Organization for Security and Co-operation in Europe said there are still human remains left where the Boeing 777 hit the ground in eastern Ukraine.
"We did not observe any recovery activity in place," spokesman Michael Bociurkiw said after his group inspected the site yesterday.
US intelligence officials have said evidence gathered so far suggests pro-Russian separatists launched the SA-11 surface-to-air missile that blew up the airliner.
Western governments have threatened Russia with broader sanctions for what they say is its backing of the militia.
However, they are struggling to agree a response, and European Union ministers meeting in Brussels yesterday delayed action for a few days.
Russian President Vladimir Putin said he would urge the separatists to allow a full investigation, which the Netherlands said it would lead.
Malaysia said it would send the black boxes to a British lab for analysis.
Malaysian Prime Minister Najib Razak, speaking to parliament in Kuala Lumpur today, maintained his stand that blame should not be apportioned pending an investigation.
"A few hours after MH17 crashed, officials in the US and Ukraine claimed it was shot down," Mr Najib said.
"If that is true, we criticise the party believed to be responsible.
"However, we are not pointing fingers at anyone at this stage, until evidence has really been obtained."
Mr Najib's cautious approach enabled him to work through intermediaries to reach rebel leaders and broker a deal to retrieve the black boxes and secure the release of the bodies.
A small group of Malaysian air crash experts became the first international accident investigators to reach the site yesterday, escorted by a convoy of international monitors and heavily armed separatist fighters.
As they went about their work, loud explosions were heard on the outskirts of Donetsk, some 60km from the site.
The shooting down of the airliner has sharply deepened the Ukrainian crisis, in which separatist gunmen in the Russian-speaking east have been fighting government forces since pro-Western protesters in Kiev forced out a pro-Moscow president and Russia annexed Crimea in March.
TOP STORIES

RTÉ News – News Headlines