Updated: Thursday, 24 Apr 2014 13:23 | Comments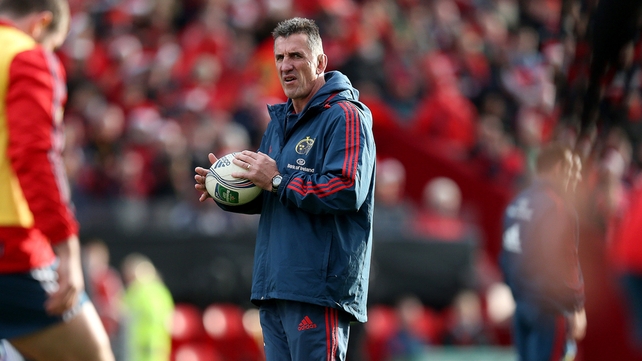 Rob Penney's side will be roared on by 4,000 supporters from Munster
Munster coach Rob Penney admits even a perfect performance from his side might not be good enough to overcome Toulon, but the challenge is exciting the province ahead of the Heineken Cup semi-final on Sunday.
Penney's team meet the reigning champions in Marseille, backed by 4,000 visiting supporters, and face the arduous task of trying to knock out the side at the head of the Top 14 in France.
Asked whether the province need to be at their best to have a chance of victory, Penney said: "We have no doubt about that. Whether it is good enough, who knows? We will go over there and give it a really good shot.
"Everybody likes to be challenged.  Players, coaching staff want the big events where you get an opportunity to test yourself, grow and teach yourself.
"It is a home game for them, but we've got a lot of Munster people going down and that is something that the boys will really thrive on seeing.
"We have a tight group, they are committed to each other and committed to making this game work for them on Sunday."
Penney has revealed JJ Hanrahan has an outside chance of being available after a "miraculous" recovery from a groin problem and a decision will be made as the semi-final approaches.
He said: "JJ has done really well in the last 10 days. He did a great job in his rehabilitation post injury and he is up and about, on his feet and hopeful he will make progress. He is not out of contention yet."
Captain Peter O'Mahony will miss the game and the rest of the season because of injury but he has been present at training and throughout the build-up to the crunch last four encounter.
Penney thinks O'Mahony has a role to play in motivating his team-mates.
"Peter is an important member of the group going forward. It's critical that he retains a connection to the side. He will be kept here for a long time I imagine and he has a lot of things to offer. We are wrapped to have him part of it."
There will be full commentary of Toulon v Munster on RTÉ 2FM on Sunday. Presented by Damien O'Meara with Tony Ward, commentary comes from Michael Corcoran and Donal Lenihan. 
User contributions and/or comments do not, unless specifically stated, represent the views of RTÉ.ie or RT&Eacute.
Click here for Terms of use

RTÉ Sport sport headlines