1 of 3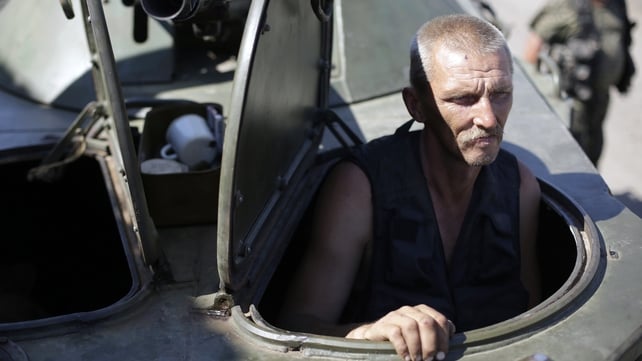 A Ukrainian soldier stands in an armoured personnel carrier (APC) at a checkpoint near Donetsk, eastern Ukraine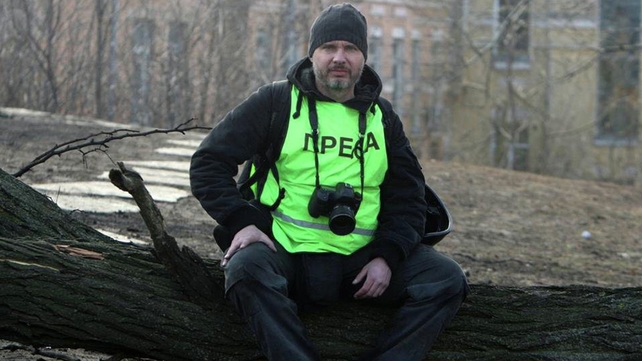 Undated file picture taken in Kiev of Andrei Stenin, who has been found dead in Ukraine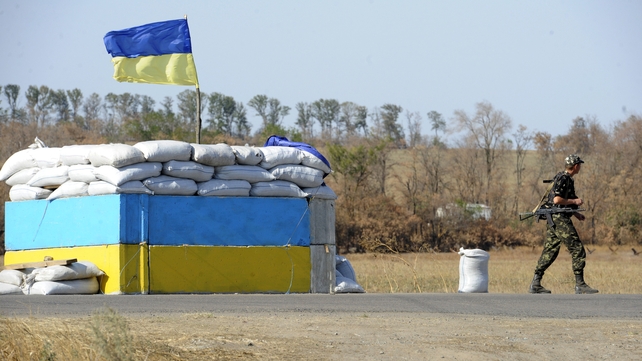 A Ukrainian fighter from the Azov Battalion walks past a checkpoint on the outskirts of Mariupol
US President Barack Obama has said a ceasefire in Ukraine could only be effective if Russia stopped "pretending" it was not active in the conflict and stopped sending troops and weapons into the country.
Ukraine said its president had agreed with Russia's Vladimir Putin on steps towards a "ceasefire regime" in Kiev's conflict with pro-Russian rebels.
However, the Kremlin denied any actual truce deal, sowing confusion on the eve of a NATO summit.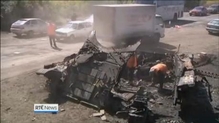 RELATED AUDIO & VIDEO
"No realistic political settlement can be achieved if effectively Russia says we are going to continue to send tanks and troops and arms and advisors under the guise of separatists, who are not home grown, and the only possible settlement is if Ukraine cedes its territory or its sovereignty," Mr Obama said.
Russia denies it has sent armour or troops into eastern Ukraine, a largely-Russian speaking area of the country which has seen separatist fighting since April.
Mr Obama arrived in Tallinn earlier on his way to the NATO summit in Wales to reassure the three ex-Soviet Baltic states that NATO would back them up and that the US was committed to protecting the Alliance's eastern frontier.
The three Baltic states – Lithuania, Latvia and Estonia – are heavily reliant on Russian fuel deliveries and Latvia and Estonia have very large Russian-speaking minorities.
Under the NATO treaty, an attack on any individual NATO state would be treated as an attack on all alliance members. The Baltic states joined NATO in 2004, but Ukraine is not a member.
Mr Obama said Russia was already suffering under the weight of U.S. and European sanctions as its economy was contracting, capital was fleeing and the currency was falling sharply.
"There's an opportunity here, let's see if there's follow up," Mr Obama said. 
Meanwhile, Russian photographer Andrei Stenin, missing since early August, has been found dead in Ukraine, the RIA-Novosti press agency he worked for has announced. 
"Our colleague, the photographer Andrei Stenin, is dead. It turns out he was not a prisoner, he has been dead for a month," said the agency's head Dmitry Kiselev.
"His car was hit by shots and it had been burnt on the road close to Donetsk," Mr Kiselev said, referring to a rebel stronghold in eastern Ukraine.
Russia had opened an inquiry in mid-August into the disappearance of the photographer and had believed that he had been taken by Ukrainian authorities.
"Unfortunately, when we were all trying to do our best, and even the impossible, to save him, Andrei was already no longer alive," said Mr Kiselev.
Mr Stenin, 33, had been based in Ukraine since 14 May. Three other Russian journalists were killed in Ukraine in June.
An Italian photographer and his Russian assistant were killed at the end of May.

RTÉ News – News Headlines