Monday 20 January 2014 14.33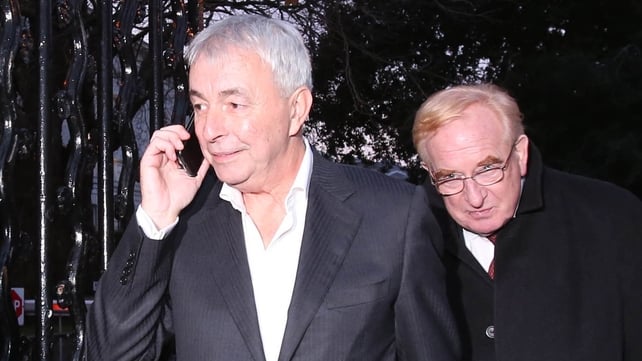 Former CEO Paul Kiely received a retirement package of over €700,000
A member of the Dáil Public Accounts Committee has said it is prepared to compel former board members of the Central Remedial Clinic to appear again if they refuse to do so.
The PAC will be writing this week to all the board members who were involved in approving a retirement package of over €700,000 for former CEO Paul Kiely.
Speaking on RTÉ's News at One, Independent TD Shane Ross said the full details of the deal must be revealed.
He said the committee will go to the Dáil Committee of Procedures and Privileges if necessary and "seek that they're compelled to come in".
Yesterday, former chair of the CRC Hamilton Goulding told RTÉ's This Week that nothing illegal had happened at the clinic.
He said that a saving of more than €1m had been made by paying a severance package of €740,000 to Mr Kiely.
Reacting to calls today for Mr Kiely to pay back some of the money, Mr Ross said a monetary gesture from him would not be enough.
"We're talking about a hush, hush deal about which we don't know enough about and what we need here is not just a gesture from Mr Kiely, but we need the details of the hush, hush deal to come out". 
Earlier, PAC member and Fine Gael TD Simon Harris reiterated that all of the board members involved in approving Mr Kiely's package would be recalled before the PAC.
He said he believed the committee would be writing to those board members this week,
He added the committee would also like to hear from the HSE's Interim Administrator at the clinic, John Cregan.
The HSE has yet to comment on this, or on media reports which suggest that some of the documents relating to the approval of Mr Kiely's retirement package have gone missing.
Meanwhile, a spokesperson for the Health Service Executive has said that the Interim Administrator at the CRC, John Cregan, has not yet been issued with an official invitation to appear before the PAC.
However, the spokesperson said should such a request be issued it would be considered by the HSE and the CRC.
Responding to media reports that documents relating to the approval of former CEO Paul Kiely's remuneration package had gone missing, the HSE said it would not say that the documents were missing, but that Mr Cregan was currently trying to locate all the relevant documentation.
Mr Cregan has made contact with auditors Ernst & Young in relation to the documentation and ongoing investigation.
The spokesperson also said that Mr Cregan had not been in contact with the Office for the Director of Corporate Enforcement about the CRC, and that he was waiting to get a full picture of the situation before a decision on this would be made.
The spokesperson said Mr Cregan's investigation was a work in progress. 
TOP STORIES

RTÉ News – News Headlines