Wednesday 19 March 2014 07.18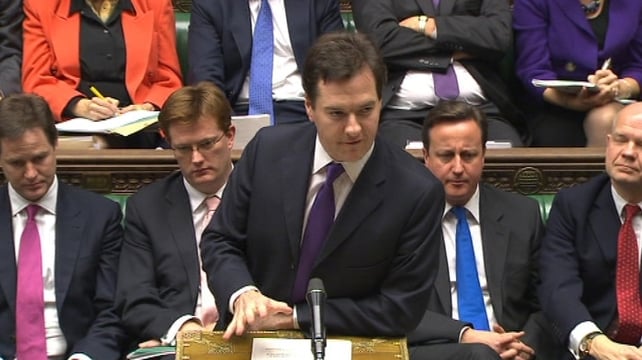 George Osborne expected to stick closely to his tough decade-long plan to fix the UK public finances
British Finance Minister George Osborne will announce a pre-election budget later today that is likely to offer some tax relief to voters.
But he is expected to stick closely to his tough decade-long plan to fix the public finances.
Britain goes to the polls in May 2015 and the annual budget plan is one of the government's last opportunities to make a difference to how people feel about their finances before then.
A much stronger-than-expected economic recovery in Britain has buoyed Osborne. A year ago, he was about to come under pressure from the International Monetary Fund to spend more.
Now he is considered a strong contender as Conservative party leader when Prime Minister David Cameron eventually steps down.
To reinforce his image as the guardian of the public purse, Osborne has said he will announce details of a ceiling on welfare spending along with his budget today.
Labour says many Britons are not feeling the effects of the recovery and point to a "cost-of-living crisis" that is hitting low and middle-income earners. It wants to freeze energy prices and reintroduce a 10 pence starting rate of income tax.
Osborne has rebuffed demands from within his Conservative party to make big changes in personal income tax.
Instead he is widely expected to announce the latest in a series of increases in the amount of money people can earn before paying income tax. The government announced tax breaks to help cut the cost of childcare yesterday.
Other measures likely to be announced include the extension of a tax break to encourage business investment beyond 2014.
Osborne said last month he wanted to boost investment and exports, something that would reduce the unsustainable reliance of Britain's economy on household spending.
Manufacturers also want measures to help to reduce their electricity bills – which they say are among the highest in Europe – on top of the expected freezing of a carbon tax which Britain introduced to help spur investment in renewable power.
Britain's budget deficit totalled 11% of gross domestic product when the current government came to power in 2010 and is forecast to be about 7% in the current fiscal year, still much higher than other big economies in the European Union.
Official forecasts for economic growth – which underpin the budget – are likely to be revised up for the current fiscal year to 2.3% and to 2.5% for the next two years, but beyond that they will probably stay unchanged, economists predict.  
Economists will look closely at the small print of the official forecasts which have estimated that the amount of spare capacity, or slack, in Britain's economy could take five years to run down.
If that assumption proves to be too generous, the government may have to cut spending further or raise taxes in the coming years to offset the larger-than-estimated structural component of the deficit.
TOP STORIES

RTÉ News – Business Headlines