Saturday 12 July 2014 12.34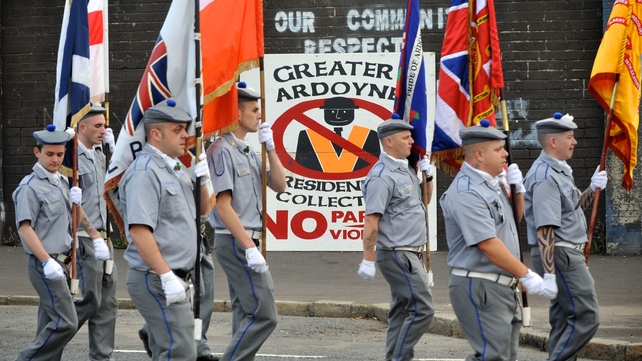 Orange Order in Ardoyne last year
The Police Service of Northern Ireland has said it has deployed 3,500 officers including riot police ahead of 18 parades taking place across Ulster.
Thousands of Orange Order members are due to march in the traditional 12 July demonstrations across Northern Ireland. 
Many officers will be deployed in north Belfast where a march has been banned from passing the nationalist  Ardoyne area on the way home this evening. 
Last year when the march was stopped Orangemen and their supporters attacked police in riots that lasted for several days.
The order has appealed for a peaceful outcome this year and wants the disputed parade near Ardoyne to disperse promptly when it returns. 
The Orange Order is also holding a series of marches after the main demonstrations in protest at the Parades Commission ban on and says they will be in non contentious areas.
Meanwhile, the Northern Ireland Fire & Rescue service received a total of 160 fire calls overnight.
58 incidents were bonfire related with 28 of them requiring the intervention of the fire service.
TOP STORIES

RTÉ News – News Headlines