Updated: Sunday, 22 Dec 2013 19:57 | Comments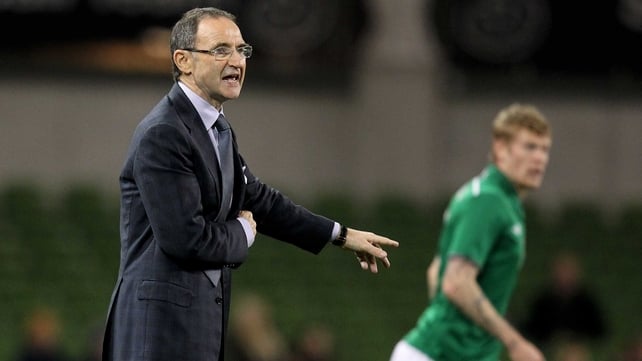 Martin O'Neill is keen to explore the options at his disposal
Video
Republic of Ireland manager Martin O'Neill has revealed he plans to give some new players opportunities in his side's March friendly with Serbia.
"There'll be some returning faces and there might be one or two surprises," he said, speaking with Darragh Maloney at the RTÉ Sports Awards.
"I've had the chance to see a couple of younger players recently who've caught my eye.
"Some of the older contingent, I know plenty about anyway, if there is an opportunity to blood one or two of the young lads in March then I will do so.
West Ham's Mark Noble and Norwich winger Nathan Redmond, currently an England U-21 international, have recently been touted for Ireland call-ups.
O'Neill also revealed that Roy Keane's undimmed passion for football after the Corkman's sacking from Ipswich had greatly impressed him and was one of the reasons he offered him the Ireland assistant manager job.
"I thought he might have been really sickened after the Ipswich affair, having lost the job there," said O'Neill.
"But I got to meet him a few times just after that and the drive and determination were still there.
"This fella goes to an awful lot of football matches, even when there was nothing at stake or no reason for him to.
"Those things were very important ingredients when I was thinking about it (picking Keane for the job)
"When I mentioned to John Delaney about taking Roy on as an assistant, you would have thought the reaction might have been different but John said 'Anyone you want, it's your choice' and we went with it.
"And I was really, really delighted.
"Roy jumped at the chance. I think eventually, of course, he'll want to manage himself but hopefully at this minute he won't be trying to take my job!"
"If the results go badly, I'm going to blame him," O'Neill joked.
User contributions and/or comments do not, unless specifically stated, represent the views of RTÉ.ie or RT&Eacute.
Click here for Terms of use

RTÉ Sport sport headlines