Updated: Sunday, 23 Feb 2014 17:45 | Comments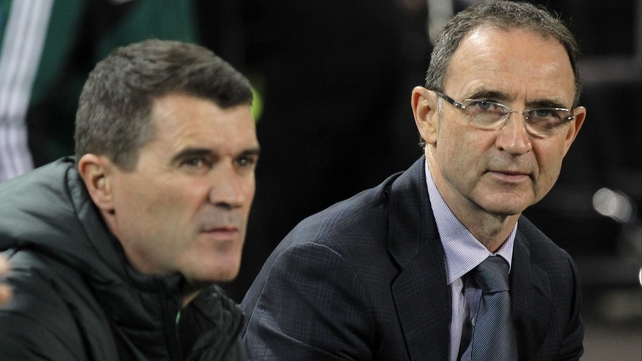 Martin O'Neill is looking forward to getting the Euro 2016 qualifying campaign underway
Martin O'Neill admitted it was ironic that his Republic of Ireland side will have to slug it out with Scotland for Euro 2016 qualification.
It was the FAI and SFAI which proposed the expansion of the European Championship agreed by UEFA member nations back in 2009.
Ireland were handed a very testing draw in Group D along with Germany, Poland and Georgia, as well as UEFA's newest member Gibraltar.
O'Neill said: "I think it's the toughest group but it's an exciting one. We have got Scotland, we have Poland who we have played in a recent friendly and whose recent efforts (against England) at Wembley were not too bad at all.
"Somebody told me (the associations had proposed expanding the tournament) so it is ironic they have ended up in the same group."
It will bring O'Neill face to face with his fellow ex-Celtic manager Gordon Strachan and he added: "They will be great occasions I hope.
"I'm sure he (Strachan) is looking forward to it. I'm sure he'll be as excited as I am myself. It's tough, there are other groups we might have preferred to be in but we'll get on with it.
"Germany you would say are the outstanding side in the group but there's plenty to fight for."
Scotland boss Strachan claimed it was a "terrific draw" – while other groups appeared "mundane".
"I think it's the toughest group but it's an exciting one," – Martin O'Neill
Strachan said: "It will be tough for everyone involved in the group.
"Every tie has something in it. You've got Gibraltar, new to the competition; Germany, one of the best teams in the world.
"Then there is the Republic of Ireland and I think the two sets of supporters will turn those games into a cup tie.
"There are some groups you might call mundane but we're definitely in an exciting group. It's a terrific, terrific draw."
He added: "It's going to be very exciting for Gibraltar – I have been there a couple of times on holiday but I have never watched any football there, that's for sure. We will be looking forward to that one too."
Germany will be the favourites to win the group but their head coach Joachim Low believes the fixtures against Scotland and Ireland will be tough.
Scotland held Germany to a 1-1 draw in Glasgow in a Euro 2004 qualifier in 2003, and lost narrowly in Dortmund 2-1 in the return fixture.
Low said: "We know the Scottish team will be physically strong and it has always been hard for Germany when we have played against them in the past.
"Gordon Strachan was a good tough player and his team will be the same.
"Martin O'Neill has been a top manager for a long time and his team will be a challenge too."
Ireland will kick their campaign off against Georgia on Sunday 7 September at 5pm.
They follow that up with an October double header, at home to Gibraltar on 11 October and then away to Germany three days later.
Martin O'Neill's men have a tough end to the qualifying campaign also, hosting Germany in their penultimate match on 8 October 2015 before travelling to Poland on 11 October 2015. 
Euro 2016 qualifier fixtures (Kick-offs Irish time):
Georgia v Ireland, 7 September 2014, KO 5pm
Ireland v Gibraltar, 11 October 2014, KO 5pm
Germany v Ireland, 14 October 2014, KO 7.45pm
Scotland v Ireland, 14 November 2014, KO 7.45pm
Ireland v Poland, 29 March 2015, KO 7.45pm
Ireland v Scotland, 13 June 2015, KO 5pm
Gibraltar v Ireland, 4 September 2015, KO 7.45pm
Ireland v Georgia, 7 September 2015, KO 7.45pm
Ireland v Germany, 8 October 2015, KO 7.45pm
Poland v Ireland, 11 October 2015, KO 7.45pm 
User contributions and/or comments do not, unless specifically stated, represent the views of RTÉ.ie or RT&Eacute.
Click here for Terms of use

RTÉ Sport sport headlines