Updated: Thursday, 02 Jan 2014 16:39 | Comments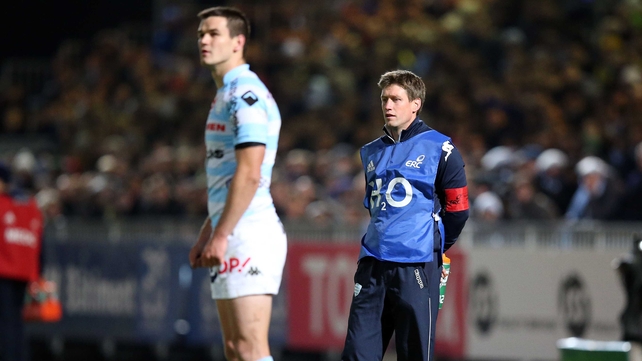 O'Gara on Sexton: 'At the start we didn't get on, because we were two competitive people looking to play for our country'
Audio
Ronan O'Gara has revealed that he deliberately chose to leave Ireland to ease the pain of his transition from playing to coaching.
The Munster legend is now an assistant coach at Racing Metro in Paris, where he is kicking coach to Johnny Sexton – his successor as Ireland's first-choice No 10.
He is also the subject of the documentary 'ROG  – The Ronan O'Gara Documentary' which airs on RTE ONE and RTE ONE HD at 9.30 tonight.
"It was easier for me to deal with by getting out of the country rather than living in Cork and having Munster all around me and Ireland," said O'Gara, speaking on the John Murray show on RTE Radio 1.
"It's a small, passionate country that I'm very fond of but, for me, to move on to the next stage of my career, it was easier to go to Paris."
"It's so different. But if I wanted to become a coach, I had to go and see another side of it.
"I know how Munster and Ireland operate, (I thought) France was going to be a huge eye-opener and it certainly has proved to be that."
O'Gara also admitted he finds it difficult to accept that his career as a player has finished.
"I miss it massively," he said. "I suppose I'm probably still in the honeymoon period of dealing with it. I probably think it's still there, but it's never there, it's gone.
"I probably haven't fully realised that I won't play for Munster again.
"It's hugely disappointing but, the reality is, nothing lasts forever and I have to get on with it."
"I was doing my damnedest to hold on to the No 10 jersey as long as I could and I had a good competitor against me." – Ronan O'Gara
The Cork man played down his famous out-half rivalry with Sexton, saying that any tension between them was purely down to their shared desire to play for Ireland.
"It's funny," he said. "People think myself and Johnny don't get on, and at the start we didn't get on, because we were two competitive people looking to play for our country.
"I was doing my damnedest to hold on to the No 10 jersey as long as I could and I had a good competitor against me.
"Now I'm a friend of Johnny. At the start I wasn't. But it's important that you're able to have that relationship in life.
"The most important thing when you're finished (playing) is that you have the respect of your peers and you have good friends around you."
User contributions and/or comments do not, unless specifically stated, represent the views of RTÉ.ie or RT&Eacute.
Click here for Terms of use

RTÉ Sport sport headlines