Tuesday 22 April 2014 14.35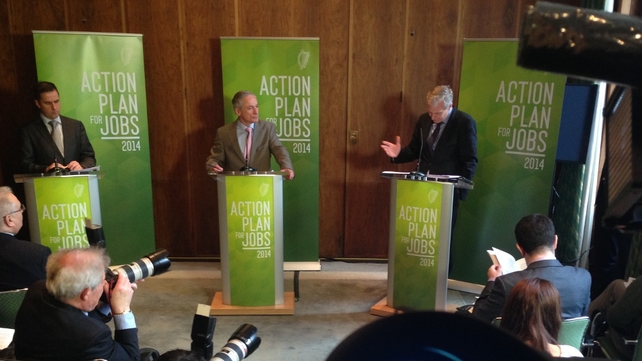 Jobs, Enterprise and Innovation Minister Richard Bruton welcomes OECD's review of Action Plan for Jobs
The OECD has concluded that the Government's Action Plan for Jobs plan is working, but it recommends adjustments in the future to maximise its potential.
In its review, the Organisation of Economic Co-operation and Development said its focus on private sector-led, export-oriented job creation by getting framework conditions right and continually upgrading the business environment was a sound approach.
It also welcomed the focus on building and strengthening links between the domestic SME and multinational sector, while it said the "rigorous" quarterly monitoring and reporting system was a significant positive development in Irish governance.
The Paris-based OECD said that future improvements to the plan should include introducing a comprehensive performance assessment framework to measure progress towards achieving its strategic objectives.
60,000 jobs were created in Ireland last year, which was the fastest employment growth rate among OECD countries.
Jobs, Enterprise and Innovation Minister Richard Bruton said the Government had asked the OECD to examine the action plan for jobs and assess how well it was working. "Given the scale of the jobs challenge we face, it is crucial that we continually learn lessons and improve our efforts in this area," the Minister said 
"The OECD's broad conclusion that the plan is working is very welcome. However they also provide important conclusions on areas where we can make improvements and recommendations for how we can do that. We will be taking these recommendations on board as part of Action Plan 2014 and 2015," Mr Bruton added.
TOP STORIES

RTÉ News – Business Headlines