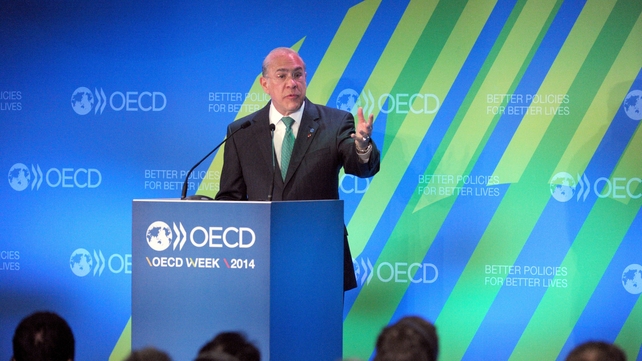 OECD's director general Angel Gurria cuts growth forecasts for most advanced economies
The OECD slashed its growth forecasts for major developed economies today, urging much more aggressive ECB stimulus to ward off the risk of deflation in a subdued euro zone.  
The call adds to growing pressure on the European Central Bank, to boost growth ahead of a meeting of finance ministers and central bankers from the Group of 20 economic powers later this week in Australia.
Updating its growth forecasts for major developed economies, the Organisation for Economic Cooperation and Development projected growth in the euro zone at only 0.8% this year and rising only slightly next year to 1.1%.  
That marked a sizeable downgrade from its May economic outlook for the euro zone, when the Paris-based organisation forecast growth of 1.2% in 2014 and 1.7% in 2015.
In comparison, the OECD saw the US economy growing 2.1% this year before accelerating to 3.1% in 2015. In May, the OECD forecast US growth of 2.6% this year and 3.5% next year.
The US is set to push European countries at the G20 meeting to step up measures to boost demand and economic growth in the face of the risk of deflation. 
The OECD said that though euro zone inflation, at a five-year low in August of 0.4%, should strengthen as demand recovers, low levels close to zero raised the risk of deflation. 
"Given the low-growth outlook and the risk that demand could be further sapped if inflation remains near zero, or even turns negative, the OECD recommends more monetary support for the euro area," the organisation said in a statement accompanying its forecasts. 
"Recent actions by the European Central Bank are welcome, but further measures, including quantitative easing, are warranted," it added. 
The ECB recently cut the cost of borrowing to near zero and pledged to buy repackaged debt in an effort to encourage lending to credit-starved companies. 
However, so far it has shied away from the kind of quantitative easing carried out by counterparts in the US and Japan, consisting of a huge campaign of buying government and other bonds to lower the cost of borrowing. 
Turning to Japan, the OECD forecast growth of 0.9% this year and 1.1% next year as the economy recovers after a sales tax hike in April muted consumer demand in the first half. The OECD trimmed its estimates from May for growth this year of 1.2% and 1.3% in 2015. 
Among the major emerging economies which are not OECD members, China's forecast was held steady at 7.4%. It said the world's number two economy "has so far managed to achieve an orderly growth slowdown to more sustainable rates."  
It slashed the forecast to Brazil to 0.3% growth in 2014 from 1.8% after the country fell into recession in the first half of this year.  
India was the sole gainer, with the OECD lifting its forecast to 5.7% from 4.9% thanks to a boost of confidence in the country that the new government will pursue growth-oriented reforms and progress in containing inflation.
EU companies flush with cash – study
European companies have close to €1 trillion in cash – far more than before the financial crisis – and are set to invest heavily during the next 12 months, auditor Deloitte said today. 
Companies in Europe had €936 billion of liquidity in 2013, up from €916 billion the previous year, the consultancy group said in a study. 
However, these funds are unevenly distributed, with just 17% of companies holding three quarters of the cash, it said. 
The sectors showing the biggest cash reserves are industry (€325 billion), energy (€256 billion) and consumer goods (€175 billion). 
"This recovered liquidity is a sign that Europe is exiting the crisis and that its present intention is growth and investment," said Katia Ruet, a partner at Deloitte. 
Among the companies surveyed, 59% said they were willing to invest in the coming months. 
A third of directors questioned said they would finance projects primarily through cash reserves, with 29% indicating they would take advantage of bank loans. 
The study was conducted among 271 companies across 14 European countries of varying sizes and in different sectors, Deloitte said. Investment is one of the early drivers in the cycle of economic growth.  

RTÉ News – Business Headlines