Sunday 09 March 2014 11.59
1 of 3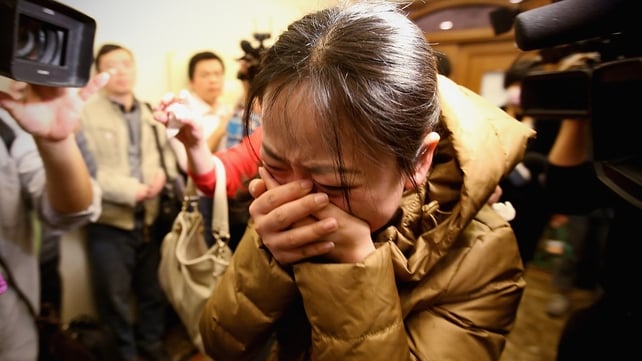 A relative of a passenger onboard Malaysia Airlines flight MH370 cries at a local hotel where families are gathered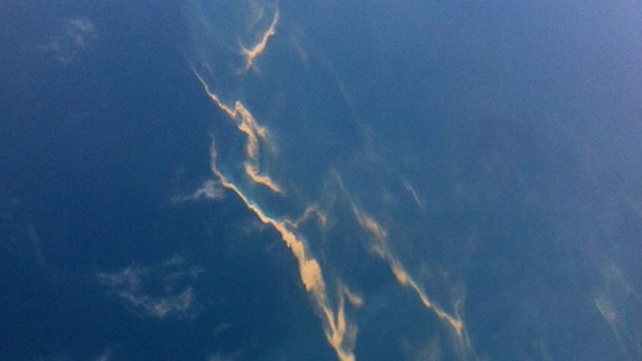 An aerial view of an oil slick taken from a Vietnamese Air Force aircraft taking part in the search mission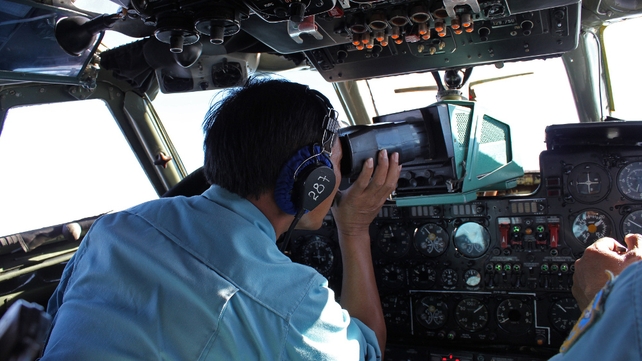 Military personnel scan the sea aboard a Vietnamese Air Force aircraft in the search for flight MH370
A missing Malaysia Airlines passenger plane may have turned back from its scheduled route before vanishing from radar screens, military officers said.
More than 36 hours after the last contact with Flight MH370, officials said they were widening the search to cover vast swathes of sea around Malaysia and off Vietnam.
They were also investigating at least two passengers who may have been using false identity documents.
In a sign that Malaysia's airport controls may have been breached, Prime Minister Najib Razak said security procedures were being reviewed.
              
"We will enhance them if necessary, because we still do not know the cause of the incident," he told reporters
Royal Malaysian Air Force chief Rodzali Saud said they had looked "into the recording on the radar that we have and we realised there is a possibility the aircraft did make a turn back."
The search was being extended to the west coast of the Malay peninsula, in addition to a broad expanse of the sea between Malaysia and Vietnam, he said.
Despite dozens of military and civilians vessels and aircraft criss-crossing waters to the east and west of Malaysia, no wreckage has been found, although oil slicks have been reported in the sea south of Vietnam.
There were no reports of bad weather and no sign of why the Boeing 777-200ER disappeared about an hour after it took off from Kuala Lumpur bound for Beijing early yesterday.
European officials said it appeared two people on board were using stolen passports and Malaysian Transport Minister Hishamuddin Hussein said authorities were also checking the identities of two other passengers.
He said help was also being sought from the US Federal Bureau of Investigation. However, an attack was only one of the possibilities being investigated.
"We are looking at all possibilities," he said. "We cannot jump the gun. Our focus now is to find the plane."
Azharuddin Abdul Rahman, the head of the department of civil aviation, later told reporters only two passengers were being investigated and that authorities were checking CCTV footage of the two as they boarded the aircraft.
Malaysia Airlines 'fearing the worst'
Malaysia Airlines said it was "fearing for the worst" and that it had sought assistance from an Atlanta-based disaster recovery management specialist.
Vietnamese naval boats sent from the holiday island of PhuQuoc patrolled stretches of the Gulf of Thailand, scouring the area where an oil slick was spotted by patrol jets just before nightfall on Saturday.
"Our two rescue boats have approached the two oil spills since 3am today but we haven't found any sign of the Malaysian plane yet. Other boats are ready to go to support if needed," Admiral Ngo Van Phat told Reuters.
Besides the Vietnamese vessels, Malaysia and neighbouring countries have deployed 22 aircraft and 40 ships in the search.
China and the United States have sent ships to help, and Washington has also deployed a plane.
US officials from Boeing, the National Transportation Safety Board (NTSB) and the Federal Aviation Administration were on the way to Asia to help in investigations, NTSB said in a statement.
The airline has said 14 nationalities were among the passengers, including at least 152 Chinese, 38 Malaysians, seven Indonesians, six Australians, five Indians, four French and three Americans.
There were no indications of sabotage nor claims of an attack.
But the passenger manifest issued by the airline included the names of two Europeans – Austrian Christian Kozel and Italian Luigi Maraldi – who, according to their foreign ministries, were not on the plane.
Both had apparently had their passports stolen in Thailand during the past two years.
US and European security officials said that there was no proof of foul play and there could be other explanations for the use of stolen passports.
The 11-year-old Boeing, powered by Rolls-Royce Trent engines, took off at 12.40am (4.40pm Irish Time Friday) from Kuala Lumpur International Airport when it went missing without a distress call. Aboard were 227 passengers and 12 crew.
It last had contact with air traffic controllers 120nautical miles off the east coast of the Malaysian town of Kota Bharu.
Flight tracking website flightaware.com showed it flew northeast after take off, climbed to 10,670 metres and was still climbing when it vanished from tracking records.
Boeing said it was monitoring the situation but had no further comment.
Paul Hayes, director of safety at Flight global Ascend aviation consultancy, said the flight would normally have been at a routine stage, having reached initial cruise altitude.
"Such a sudden disappearance would suggest either that something is happening so quickly that there is no opportunity to put out a mayday, in which case a deliberate act is one possibility to consider, or that the crew is busy coping with what whatever has taken place," he told Reuters.
The disappearance of the plane is a chilling echo of an Air France flight that crashed into the South Atlantic on 1 June 2009, killing all 228 people on board, including three Irish doctors.
It vanished for hours and wreckage was found only two days later.
TOP STORIES

RTÉ News – News Headlines