Friday 13 June 2014 08.55
1 of 3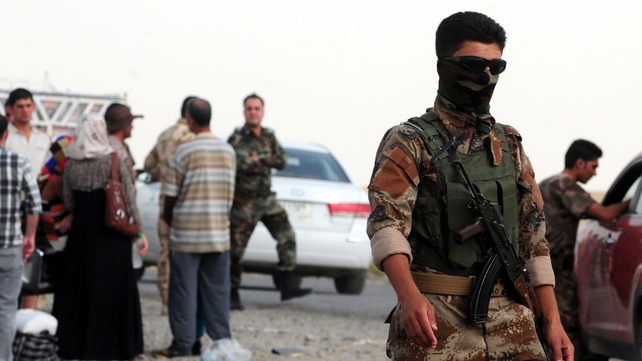 Armed men watch Iraqis who fled the violence in Mosul upon their arrival at a checkpoint in Erbil in the Kurdistan region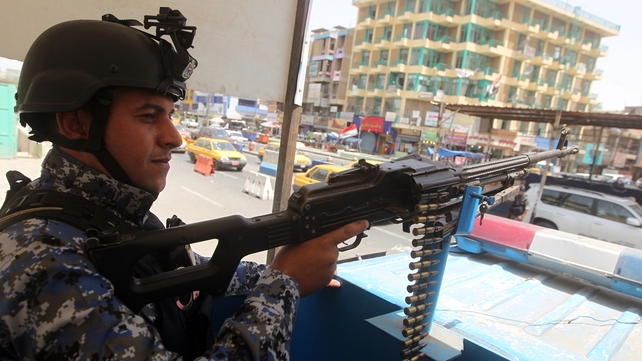 An Iraqi police officer mans a checkpoint in the capital Baghdad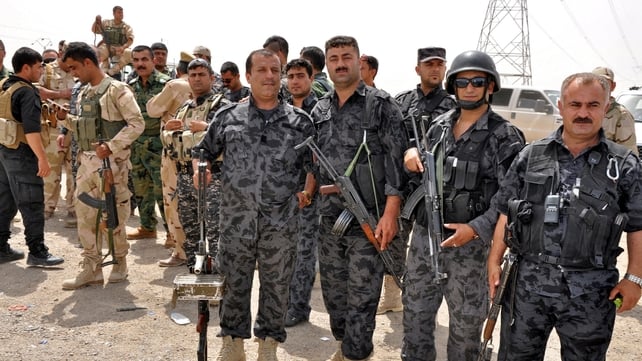 Kurdistan's Peshmerga forces secure an area in Kirkuk city in northern Iraq
Sunni Islamic militants gained more ground in Iraq overnight, moving into two towns in the eastern province of Diyala after security forces abandoned their posts.
US President Barack Obama has threatened US military strikes against the insurgents who want to establish their own state in Iraq and Syria.
Security sources said the towns of Saadiyah and Jalawla had fallen to the militants, as well as several other villages around the Himreen mountains, which have long been a hideout for militants.
The Iraqi army fired artillery at Saadiya and Jalawla from the nearby town of Muqdadiya, sending dozens of families fleeing towards Khaniqin near the Iranian border, security sources said.
Militants from the Islamic State in Iraq and the Levant (ISIL) already captured two cities this week – Tikrit in Salaheddin province and second city Mosul in Nineveh.
Since then, they have pressed south towards Baghdad in an onslaught against the Shia-led government.
Iraqi forces clashed ISIL advancing on the city of Baquba, just 60km north of Baghdad the offensive spearheaded by jihadists drew closer to the capital.
Security forces were battling insurgents on the outskirts of Muqdadiyah, 35km northeast of Baquba.
Baquba is the capital of Diyala province, whose mixed Arab and Kurdish, Sunni and Shiite, population has made it a byword for violence ever since the US-led invasion of 2003.
Diyala deputy governor Furat al-Tamimi said Kurdish security forces were in control of the Saadiyah and Jalawla districts of the province after the Iraqi army withdrew.
The Kurds, who run their own autonomous region in the north, have taken advantage of the chaos to expand their territory.
Yesterday, they took control of the oil-rich city of Kirkuk and other areas outside the formal boundary of their enclave.
Last night, Mr Obama said that all options are being considered.
He said: "I don't rule out anything because we do have a stake in making sure that these jihadists are not getting a permanent foothold in either Iraq or Syria."
Officials later stressed that ground troops would not be sent in.
Mr Obama was looking at "all options" to help Iraq's leaders, who took full control when the US occupation ended in 2011.
"In our consultations with the Iraqis, there will be some short-term immediate things that need to be done militarily," he said.
A US defence official said the United States had been flying surveillance drones over Iraq to help it fight the militant Islamic State of Iraq and the Levant (ISIL).
TOP STORIES

RTÉ News – News Headlines