1 of 6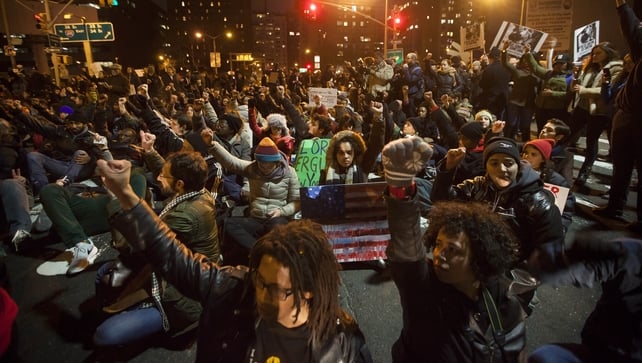 Thousands of marchers took to the the streets of Manhattan on last night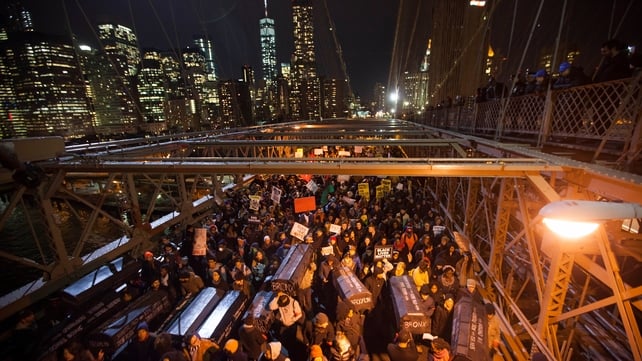 Protesters march over the Brooklyn Bridge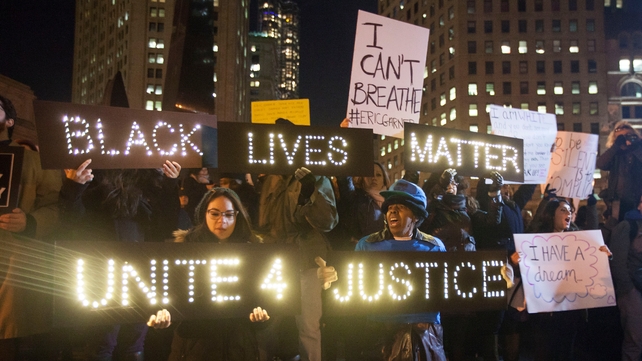 An investigation will focus on whether Mr Pantaleo employed a chokehold, banned by regulations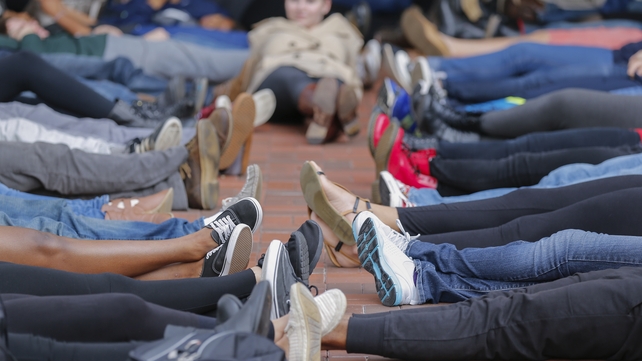 Students at Emory University participate in a mass 'die in' during a protest on campus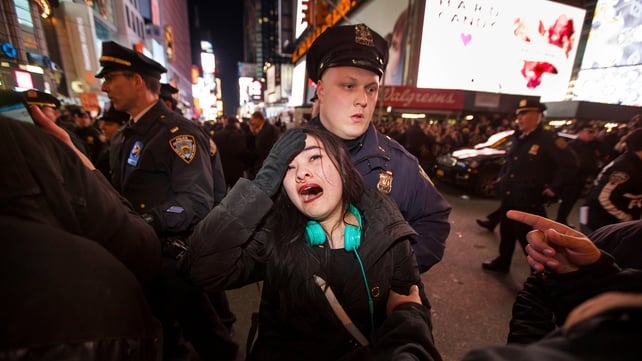 A woman reacts as New York City police officers push people out of an intersection in Times Square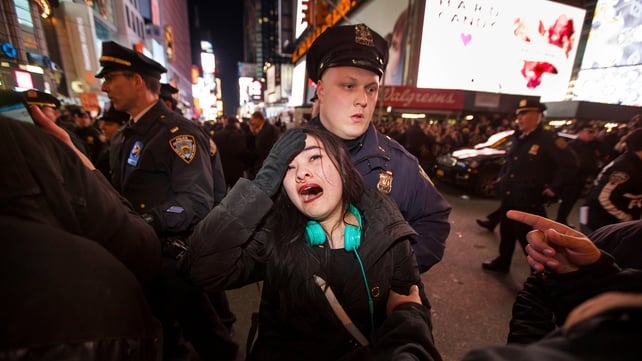 Thousands of people in the United States have taken part in a second night of demonstrations in New York and other cities, to protest against a State Grand Jury's decision not to prosecute a white police officer, involved in the death of an unarmed black man. 
The reaction to Wednesday's decision not to indict officer Daniel Pantaleo for his role in the videotaped confrontation that left 43-year-old Eric Garner dead echoed a wave of outrage.
The anger was sparked nine days earlier by a similar outcome in the fatal shooting of an unarmed black teenager by a white policeman in Ferguson, Missouri.
US Attorney General Eric Holder, who already has mounted a civil rights review of the Ferguson shooting yesterday promised a full probe of the New York case.
Mr Pantaleo could still face disciplinary action from an internal police investigation, his lawyer said, adding that he expects that process to move quickly and that his client would be exonerated.
A departmental investigation will likely focus on whether Mr Pantaleo employed a chokehold, banned by police department regulations, in restraining Mr Garner as he and other officers sought to arrest him for allegedly selling cigarettes illegally on a footpath in Staten Island in July.
In addition to triggering protests around the country, the New York and Missouri cases have re-ignited debate over a US law enforcement system widely perceived to unfairly target African Americans and other minorities.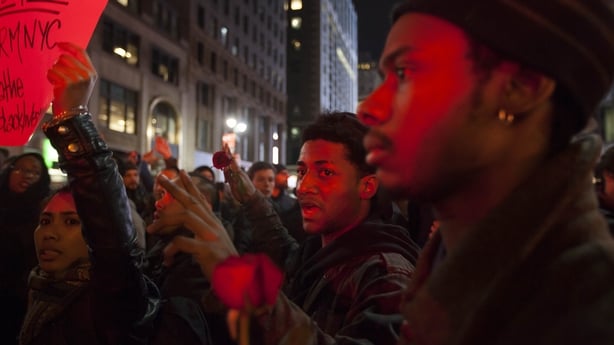 Thousands of marchers took to the the streets of Manhattan last night, beginning at the evening rush hour and picking up recruits along the way and bringing traffic to a near standstill.
Tensions rose as a crowd of at least 3,000 congregated in Times Square about an hour before midnight, shouting at police, "Who do you protect?" as hundreds more officers moved in to force protesters to clear the street.
There were a number of arrests but no overt outbursts of violence.
Hours earlier, protesters parading through lower Manhattan staged sporadic sit-ins at intersections before police in riot gear warned them to move on or face arrest.
Most marchers complied, and the atmosphere among the racially mixed crowd was boisterous, upbeat and mostly peaceful.
Yesterday's rallies in New York and elsewhere were generally larger and more numerous than the previous night.
Hundreds took to the streets of the nation's capital, chanting, "No justice, no peace, no racist police," as they passed the Justice Department, neared the White House and headed on to the Washington Monument.
Protesters staged a "die-in" there, sprawling on the roadway to block traffic.
In Minneapolis, dozens of protesters blocked traffic on Interstate 35W, at times marching or lying down in the middle of the highway, escorted by police seeking to keep demonstrators moving.
Protesters in Chicago disrupted traffic on Lake Shore Drive, and a crowd of demonstrators, reported by the Boston Globe to have numbered in the thousands, gathered at the annual holiday tree-lighting ceremony on the Boston Common.
On the west coast, a subway station was closed in Oakland, California, due to a "civil disturbance" there, transit officials said, while a "die-in" across the bay forced authorities to reroute traffic around a portion of San Francisco's famed Market Street.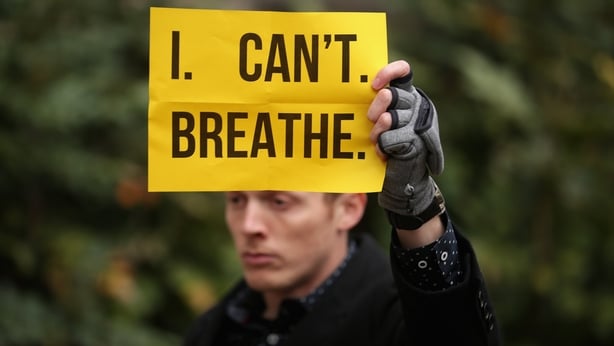 RTÉ News – News Headlines