Updated: Tuesday, 25 Mar 2014 17:41 | Comments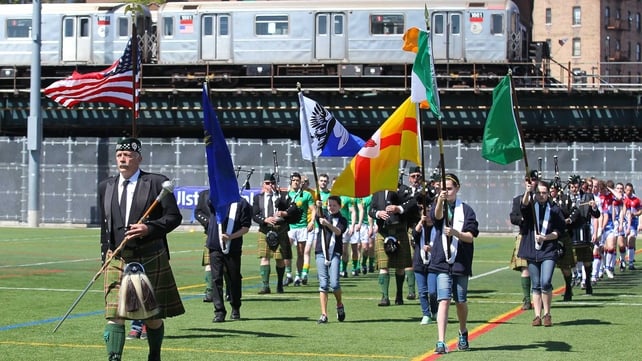 NY county board preparing for centenary
New York GAA Chairman Liam Bermingham has questioned the timing of comments made by GAA President Liam O'Neill about their status in the Championship. 
O'Neill seemed to cast some doubt on the future participation of New York in the All-Ireland Football Championship at an event in London this week..
"I don't know whether you'll see New York competing in the All-Ireland series or a world championship. I am not quite sure where the future is there," O'Neill said. 
"There are difficulties with New York's distances and the juvenile clubs haven't reached the same level of consistency."
However in a strongly worded statement today, the New York GAA chairman said that casting even a small level of doubt on the future participation of New York in the Championship – on the week of the County Board's centenary banquet in Queens – was an unfortunate decision.
And even more so, he added, given the hard work being put in by Ian Galvin and his senior panel ahead of the game against Mayo.
"I'm certainly disappointed by these comments," Bermingham said.
"The players have been putting in a lot of effort and we very much appreciate the hard work they have put in. To say the least, the timing is poor."
He also pointed to a successful structure at minor board level and expressed confidence that this would continue to prove a vital outlet for the New York Irish.
Bermingham and the New York County Board acknowledges that the president was not advocating New York should be removed from inter-county football entirely and welcomes praise of the "significant developments" in the Rockland and Shannon Gaels GAA clubs.
Incoming chairman Aogán Ó Fearghail will be in New York this weekend to help the County Board celebrate its centenary banquet however there are no plans to officially raise any concerns out of due deference to the Connacht Council.
"There are no plans to discuss this with the president-elect," Bermingham said.
"First and foremost, this is a conversation that must  be had with the Connacht Council in the appropriate forum."
As regards a potential GAA World Championship, Bermingham noted:
"That's a concept we are not in a position to give full consideration to, given many of our own players' difficulties with immigration.
"If it were to be played in the US, we'd certainly look at it closer but it's not a concrete idea by any stretch."
User contributions and/or comments do not, unless specifically stated, represent the views of RTÉ.ie or RT&Eacute.
Click here for Terms of use

RTÉ Sport sport headlines