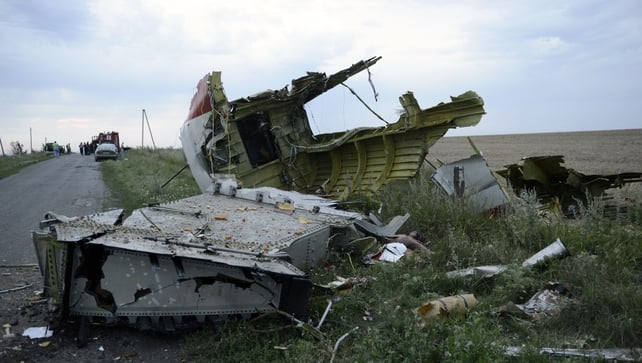 MH17 exploded over eastern Ukraine en route from Amsterdam to Kuala Lumpur on 17 July
A highly anticipated preliminary report into what brought down Malaysia Airlines flight MH17 over eastern Ukraine will be released today, hoping to shed light on the air disaster that claimed the lives of 298 passengers.
The air crash team led by investigators from the Netherlands will release its report later this morning on the website of the Dutch Safety Board (OVV).
The Malaysia Airlines Boeing 777 exploded over eastern Ukraine en route from Amsterdam to Kuala Lumpur on 17 July, killing all on board, including 193 Dutch citizens.
The West has accused Russian-backed separatists of shooting down the plane with a Russian-supplied surface-to-air missile. Russia has blamed Ukrainian forces.
Dutch investigators have been unable to visit the site in the war-torn Donetsk region due to the continued fighting and have relied on information from Ukrainian crash specialists for information from the scene.
OVV spokeswoman Sara Vernooij said: "It is certainly possible to draw meaningful conclusions without having been to the scene."
However, the OVV has stressed the report will not affix blame.
Investigators are expected to make findings based on information from the aircraft's black boxes, and pictures and video taken at the scene, as well as information supplied by Ukranian air traffic control.
The black boxes have been sent to Farnborough in Britain to be examined by the Air Accidents Investigation Branch.
The OVV said the preliminary findings will be "factual information based on sources available to the OVV".
A full report is not expected until mid-2015, it said.
"We investigate the cause of the accident and not who's responsible," Ms Vernooij said.
Shortly after the crash, forensic experts travelled to the site to collect body parts, but that search has also been suspended due to heavy fighting in the area.
So far, 193 victims of flight MH17 have been identified.
Ukraine yesterday accused pro-Russian rebels of waging fresh attacks in the east putting a fragile truce in peril.
It is hoped that air crash investigators will be able to return to the site if the ceasefire holds, but analysts said it was too early yet to make an assessment on the team's security.
The Ukrainian Defence Ministry has said four servicemen have been killed and 29 injured since the start of the ceasefire on Friday.

RTÉ News – News Headlines