Friday 25 April 2014 21.33
Proceeds from the sale of loans to date enough to repay IBRC's €12.9 billion debt to NAMA
The National Asset Management Agency will no longer be required to take on any loans previously due to the Irish Bank Resolution Corporation, formerly Anglo Irish Bank.
Minister for Finance Michael Noonan has directed the Special Liquidators of IBRC to sell its remaining assets.
The proceeds from the sale process to date were enough to repay IBRC's €12.9 billion debt to NAMA.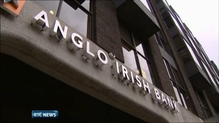 RELATED AUDIO & VIDEO
That debt was part of a complex transaction through which promissory notes used to finance the nationalisation of Anglo Irish Bank and Irish Nationwide were cancelled.
IBRC's special liquidators sold more than 90% of the bank's loan book with a par value of €21.7 billion in recent months without disclosing how much it received. 
The remaining assets will no longer need to be transferred to NAMA, the Government said today.
The Special Liquidators will be writing in the coming weeks to borrowers with unsold loans to inform them of the further sales process in respect of their loans.
UK property website Co-Star News said the loans to be sold off include €400m of Project Evergreen corporate loans, €1.4 billion of Project Stone loans, including predominantly standalone tranches and €648m of Project Sand loans, whch are Irish residential mortgages.
Mr Noonan said the move was "a very successful outcome" for the taxpayer, adding that it reinforced the decision taken to resolve the promissory note arrangement last year. 
"All debt outstanding to NAMA as part of the promissory note transaction is now expected to be repaid in full. This means that no further assets will require transfer to NAMA thereby finally breaking the link between the State and the former Anglo Irish Bank," the minister said.
In a statement, Mr Noonan said that the level of market interest in the assets of IBRC and the sale of over 90% of the loan book to third parties to date has removed the need for NAMA to acquire assets as part of this process. 
"The Special Liquidators will continue to manage the wind down and liquidation of the remaining assets of the bank," he added.
At the request of the Government and given the big international appetite chasing property loans, NAMA is currently evaluating a fast-track wind-up of its remaining income-producing assets.
TOP STORIES

RTÉ News – Business Headlines