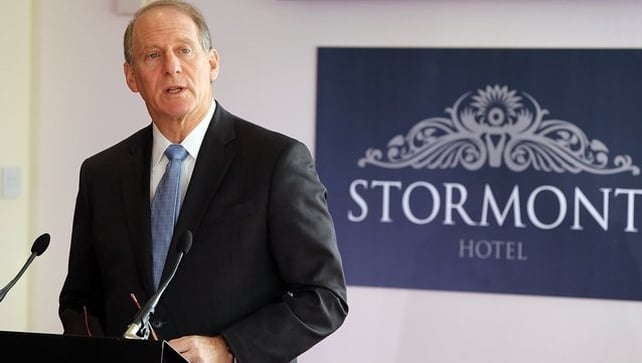 Dr Richard Haass chaired all-party talks in Northern Ireland on flags, parades and the legacy of the Troubles
The Irish and British Governments are to become involved in a new round of talks with Northern Ireland's political parties to address the problems in the peace process.
The initiative was confirmed in a statement from the Minister for Foreign Affairs and Trade, Charlie Flanagan.
In the statement issued in New York, Mr Flanagan said: "I am strongly of the view that all-party talks involving the two Governments are required to overcome the current political impasse with the Northern Ireland Executive."
The Secretary of State for Northern Ireland, Teresa Villiers MP, today confirmed that the British and Irish governments will become involved in Northern Ireland peace talks.
Speaking at the Conservative Party Conference in Birmingham this afternoon, she said: "My realistic assessment is that the time is now right for a new round of cross-party talks to be convened …  to seek a way forward on the outstanding issues."
She also said: "Working together we can do all we can to lift the blockages which are now preventing the devolved Executive from delivering the efficient and effective government that the people of Northern Ireland want and which they deserve."
Ms Villiers told delegates at the Conservative Party conference: "In the coming days I will be engaging with the five main parties and the Irish Government to discuss in more detail the precise format and agenda."
For several months the parties in the power-sharing executive at Stormont have struggled to find agreement on a range of issues.
These include the allocation of its reduced funding from Westminster and the problems that remained unresolved after negotiations chaired by Richard Haass last year.
Recently the DUP Leader and First Minister at Stormont, Peter Robinson, said the system of government was "not fit for purpose". 
Leading members of Sinn Féin and the SDLP were among those who called on the Irish and British Governments, with the support of the US administration to become more involved in addressing the growing crisis.
There is no reference of an agenda, venue or timetable included in Mr Flanagan's statement.
However, according to RTÉ's Northern Editor Tommie Gorman, talks may get under way in October, and the two Governments will be keen to conclude the process before the end of the year. 
 

RTÉ News – News Headlines