Updated: Monday, 21 Apr 2014 22:11 | Comments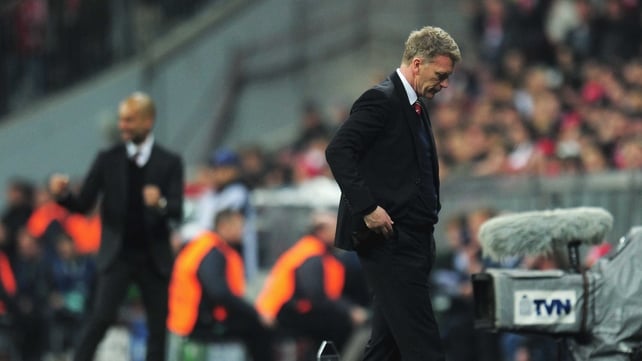 David Moyes' future has been the subject of much speculation
Former Manchester United captain Gary Neville has called on the Old Trafford club to break their silence and either back manager David Moyes or confirm that he is being sacked.
United have insisted that Moyes has not been sacked, after widespread media speculation claims the former Everton boss would be told was up, after a dire first season in charge.
The 50-year-old Scot – appointed as successor to Alex Ferguson last summer on a six-year contract – remains the Red Devils manager but the reports that his day are numbered were a reflection on the troubled campaign Moyes has experienced, missing out on Champions League football for 2014/15 and making a feeble defence of the Premier League title.
Speculation about Moyes' future intensified on Monday afternoon and Neville admits he has major concerns for the manager, urging United to clarify the situation as soon as possible.
Neville told Sky Sports 1: "I fear for him. I haven't spoken to anyone at the club today. Usually they don't comment on anything, but they're going to have to clarify this position quickly.
"They might have to break rank and do what they don't normally do and make a statement pretty quickly."
Neville also urged United not to follow the trend of other clubs who hire and fire every season, and instead allow Moyes the chance to show what he can do.
He said: "I genuinely believe when you give a man a six-year contract that he deserves the opportunity and time and professionally the respect.
"Football is a world of madness. The average manager gets sacked every 12 months and I've always felt Manchester United should be different, hold themselves up as a club that basically stands against what's happening in the game.
"We used to laugh at Italy 20 years ago and say it's ridiculous what's happening there. Now we've almost become accustomed to it.
"I'm hoping the club will come out and clarify it, and maybe it won't be true."
However, the England assistant coach acknowledged United's displays this season have not helped the manager.
Regarding Sunday's 2-0 defeat at Moyes' former club Everton, Neville said: "Ten days earlier at Bayern Munich, those players were fighting for their lives.
"They were playing against the best team in Europe and actually holding their own for most of that game.
"Yesterday was a poor performance. Some of the performances this season have been shocking, well below the accepted levels, and it's not doing David Moyes any favours."
"I genuinely believe when you give a man a six-year contract that he deserves the opportunity and time and professionally the respect." – Neville
Monday's reports cited the loss to Everton as the final straw for the Glazer family, the owners of United.
The Red Devils, who won the Barclays Premier League last season, are seventh in the table this time around.
The defeat at Goodison Park was United's 11th in the league and killed off any last hopes of a return to the Champions League next season, with the gap to fourth-placed Arsenal now too big to bridge.
United were knocked out of this term's Champions League by holders Bayern Munich in the last eight, having led briefly in both legs.
They were eliminated from the FA Cup at the first hurdle by Swansea and were knocked out of the Capital One Cup at the semi-final stage by Sunderland.
Moyes continues to paint a positive picture about the future, but he cannot hide from the statistics that show just how badly his first season at United has gone.
United will end the season with their worst points total in Premier League history. They have failed to qualify for the Champions League for the first time since the mid-1990s, and only have an outside chance of qualifying for the Europa League.
Moyes, speaking to MUTV after the defeat at Goodison, said he was hoping to end the season strongly with wins in United's remaining four games, but the reports on Monday suggest he may not be afforded the opportunity to even see out a full campaign as United boss.
"We need to end the season on a high," the United manager said.
"We want to finish by winning all of our games. We'll do everything we possibly can to make that happen."
Yet another blow hit Moyes on Sunday morning when it emerged that forward Danny Welbeck was considering his future at the club following a lack of game time this year.
The embarrassment among the playing staff at losing yet another game so easily was clear on Monday morning.
Rio Ferdinand, who was not in the squad at Goodison Park, took to Twitter to air his feelings.
"Frustration & disappointment sums up the season so far," the United defender wrote.
Juan Mata had started to pay back some of his £37.5million price tag in recent weeks, but the Spaniard had an off-day in the game on Sunday.
"I feel very disappointed today," United's club-record signing wrote on his personal blog.
"This is how you feel when you spend two weeks waiting for a game, getting ready for it, and then things don't go the way you wanted. It happened in Goodison Park and the truth is this is not the first time, as you know.
"I hate this feeling.
"What the Premiership table shows now is something that neither the club nor the fans deserve.
"I hope the next game comes as soon as possible because, as you can imagine, this bad taste makes me mad."
Moyes gave a damning critique of his team's defending for both goals, describing it as "rank" and "rotten".
And should Moyes go, contenders for the post could include Borussia Dortmund's Jurgen Klopp, Atletico Madrid's Diego Simeone, Holland coach Louis van Gaal, and even United veteran Ryan Giggs.
User contributions and/or comments do not, unless specifically stated, represent the views of RTÉ.ie or RT&Eacute.
Click here for Terms of use

RTÉ Sport sport headlines