Updated: Saturday, 11 Jan 2014 10:14 | Comments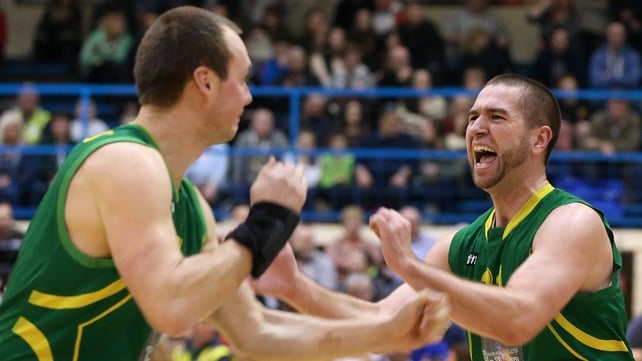 Mariusz Landos celebrates Dublin Inter's victory over Neptune
Dublin Inter shocked the Irish basketball public with a dramatic four point win over home side Bord Gais Neptune in Cork Friday night, 61 – 65, in the Men's National Cup semi-final.
After the thrill of the overtime semi-final between Demons and Killester, there was an odd deflation in Neptune Stadium as the home side took the floor to start the game..
It showed in their early play as Dublin Inter, featuring in the club's first ever National Cup semi-final, were dominant in the opening five minutes, leading 14 points to three with Aurimus Statkus causing the most problems.
It was the young under-20 star Roy Downey who led the charge back for Neptune, scoring 11 points to lift his team and drag the score back to a nine point deficit at half time, Inter still leading 34 – 43.
The third quarter was the first time the game settled into any sort of rhythm as the teams traded baskets. Crucially, it showed that Inter, the massive underdogs, would not wilt after the first Neptune charge and by the end of the period, they led 46-58 with their ticket to a National Cup final half-punched.
When Neptune turned over their first possession, a wayward pass by Darren Townes, it looked as if it was to be Inter's night without much resistance.
The crowd sensed more drama however, particularly when Townes slammed home an alley-oop dunk right before Matti Rudak converted an offensive rebound for two.
Still trailing by eight with five to go, an Ian McLoughlin three brought Neptune as close as they had been all game.
Neptune eventually drew level when the cup hero from last season, Mike McGinn stole the ball and finished an open layup with just a minute and half remaining as the stands, packed with Neptune support, erupted.
Just when it looked like Neptune would pull off the inevitable comeback and win, a massive three pointer from Mazvydas Cepliasuskas gave Inter a three point lead with  under a minute to  go.
Neptune could not recover, managing only an under pressure three point attempt from McGinn for an asnwer. With Neptune fouling to stop the clock, when Inter converted a single free thrown on the next possession the game was over and Inter were through to face Demons on January 24th in Dublin.
Bord Gais Neptune 61 (34) (R Downey 11, M Rudak 11, D Townes 11) Dublin Inter 65 (43) (A Statkus 22, M Cepliasuskas 16, M Tamusauskas 12)
User contributions and/or comments do not, unless specifically stated, represent the views of RTÉ.ie or RT&Eacute.
Click here for Terms of use

RTÉ Sport sport headlines