1 of 3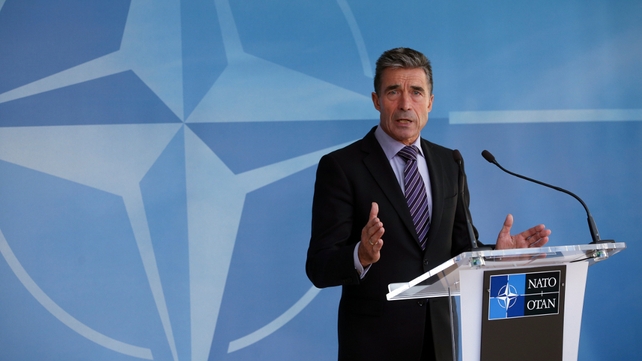 Anders Fogh Rasmussen said the Ukrainian parliament was expected to abandon the country's non-aligned status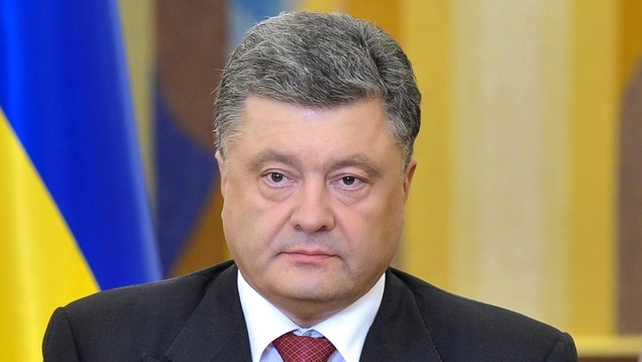 Petro Poroshenko said the situation in the zone of conflict has changed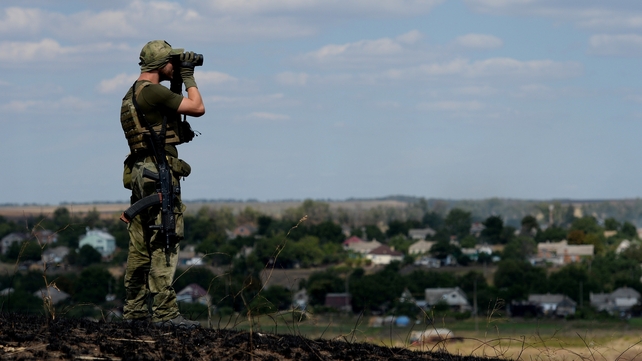 A Ukrainian fighter from the Azov Battalion stands guard on a hill on the outskirts of Mariupol
NATO Secretary-General Anders Fogh Rasmussen has said that Ukraine's political leaders expected the Ukrainian parliament to abandon the country's non-aligned status after an October election – a possible prelude to an application to join NATO.
"I understand that the current political leadership in Kiev envisages that the new parliament after the parliamentary election in Ukraine will change the legislation on non-alliance status," Mr Rasmussen told a news conference in Brussels.
It comes as Ukrainian President Petro Poroshenko accused Russia of launching "direct and open aggression" which he said had radically changed the balance on the battlefield between Ukrainian forces and pro-Russian separatists.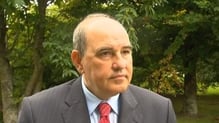 "Direct and open aggression has been launched against Ukraine from a neighbouring state.
"This has changed the situation in the zone of conflict in a radical way," he said in a speech at a military academy in Kiev.
Following events last week in Ukraine, when government forces suffered major reverses against the rebels, there would be high-level personnel changes in the Ukrainian armed forces, he said.
Earlier, Russian Foreign Minister Sergei Lavrov said negotiations taking place in Minsk today should seek an immediate ceasefire in eastern Ukraine. 
He added that Ukrainian forces must pull back from positions from which they can hit civilian targets.
"They must leave positions from which they can harm the civilian population," Mr Lavrov told students in Moscow.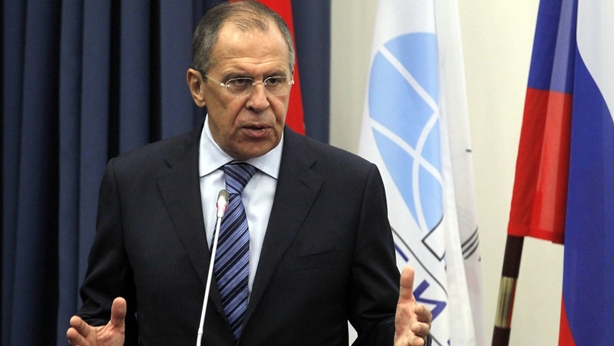 "I very much count on today's negotiations being devoted above all to the task of agreeing an immediate ceasefire, without conditions."
The talks in the Belarusian capital will bring together representatives of Russia, Ukraine, the OSCE security forum and separatist rebels in eastern Ukraine.
Meanwhile, two seamen are missing after yesterday's separatist rebel artillery attack on a Ukrainian patrol boat in the Sea of Azov.
Eight seamen were rescued, a Ukrainian border guard official said this morning.
"The cutter has sunk. We managed to save eight sailors, thanks to other cutters coming to their rescue. Seven of them are injured or burned. Two sailors have gone missing. We are continuing rescue operations," the official, Serhiy Astakhov, told Reuters.      
"After analysing the situation, we believe that this attack was from an artillery system but we don't know yet where it was fired from," he said.
Russian President Vladimir Putin said he hoped "common sense" would prevail in the West over the possibility of imposing additional sanctions, Russian news agency Interfax reported.
"I hope that common sense will prevail and we will work in a normal modern way, and that neither we nor our partners will bear the costs of these mutual jabs," the agency reported him as saying.
European Union leaders agreed on Saturday to ask the European Commission to draw up more measures against Moscow, which could be adopted in coming days, after accusations that Russia was sending troops into Ukrainian territory.  

RTÉ News – News Headlines