Updated: Friday, 18 Apr 2014 12:08 | Comments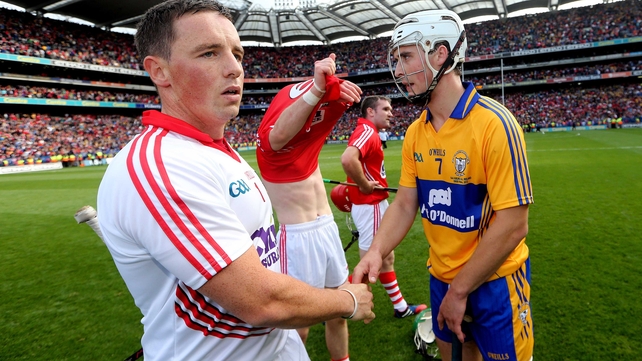 Anthony Nash believes Seamus Callanan and Colin Fennelly have been the best players so far this year
Live
Audio
Cork goalkeeper Anthony Nash spoke to RTÉ Sport, and picked out some of the stand-out elements of the Allianz Hurling League so far.
We asked the Cork man his thoughts on everything from his best moment and team to his outstanding player from the league campaign so far.
Team of the League?
Nash: I suppose Clare's performance have kind of carried on from last year, so if you were looking at a team, it would be those. Kilkenny, obviously, as always, have been very strong.
But […] it's very competitive, and there are only a couple of points between a lot of teams, and home venues would have made a big difference. We were in a relegation final last year against Clare and ended up in the All-Ireland final. So the competitiveness of the League wouldn't need to show that there's only one team going well. There are a lot of the teams in 1A, as we saw with Tipperary going very strongly.
[But] it's hard to look past Clare and Kilkenny after their performance so far.
Nash verdict: Clare and Kilkenny.
Moment of the League?
It would have to be the Tipp and Kilkenny match. Unfortunately, for a goalkeeper, to see the amount of goals going in isn't very nice, but as a spectator, it was a great game of hurling to watch. It was nip and tuck, and both teams went at it, and the amount of goals – fantastic scores – that went in that day was just phenomenal.
Nash verdict: Kilkenny 5-20 Tipperary 5-14.
What's made the League so good this year?
I think it is competitiveness. I think every team can beat any team on any given day, and I think that carries through to the Championship, as well.
Home advantages would [be] a huge benefit for a lot of teams, but even [then] teams are travelling away and barely losing by a point or two against the odds, or even pipping teams by the post.
Nash verdict: Competitiveness.
Will the League influence the Championship?
If you looked at the form of last year, you wouldn't have thought that Cork and Clare would have made the All-Ireland Final after being in a relegation battle, but it helps teams, because no team wants to lose on any given day.
It'll lead to a good Championship, by the looks of things. The pace of the hurling is phenomenal; again, unfortunately for a goalkeeper, there are an awful lot of goals going in, but for a spectator, that's a great sight.
Nash verdict: Yes, it will make for a better Championship.
Outstanding player so far?
Going back to that Tipp and Kilkenny game, the performances that Seamus Callanan and Colin Fennelly put in that day were just phenomenal. I think they got two or three goals each. And they carried their form through the League. It would be hard to pick between the two of those.
Nash verdict: Seamus Callanan (Tipperary) and Colin Fennelly (Kilkenny).
Who will win in the League semi-finals?
So far I would say Clare and Kilkenny have performed the best, and I suppose the League table would show that. But Clare and Tipperary is going to be a fantastic game. And Galway are after getting the Portumna lads back into their squad now, which is going to strengthen it up.
Going by form, you would probably think Clare and Kilkenny, but… I'm not just sitting on the fence… We might meet one of them in the Championship, so I better not say who is going to win or lose. But I think they're going to be two fantastic games.
Nash verdict: Hedging his bets.
What about Cork's League campaign?
It's difficult to say after being Division 1B. It was a hard campaign; every team we played it was just so competitive, and so close. A lot of people would have expected us to beat a number of team well. And we struggled against a lot of teams, because they upped their games so much.
You don't really know where you're at until you hit Championship. The League has definitely benefitted us, and the Tipperary match has shown the level we have to reach, because those teams [Clare, Kilkenny, Tipperary] are ahead of us at the moment, and we really must strive to get back up to that level if we have any hope of progressing in the Championship.
Nash verdict: League a benefit, but work still to be done.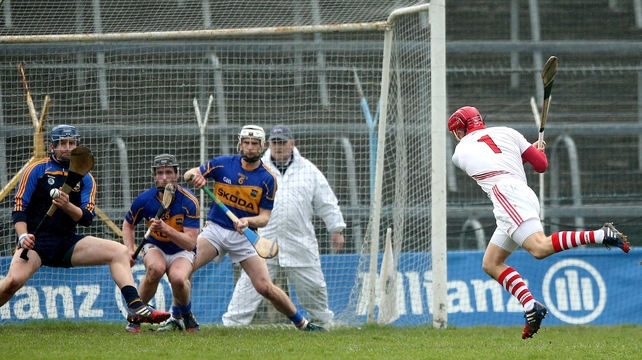 And finally, his reaction to the controversy over the 'Nash' rule?
I don't really like talking about it, to be honest, because, it's not my rule.
One way or the other, let them come up with a solution, whatever is better for hurling, if they want to come up with it, just do it.
Nash verdict: The sooner it's put to bed, the better.
User contributions and/or comments do not, unless specifically stated, represent the views of RTÉ.ie or RT&Eacute.
Click here for Terms of use

RTÉ Sport sport headlines