Updated: Wednesday, 02 Apr 2014 07:48 | Comments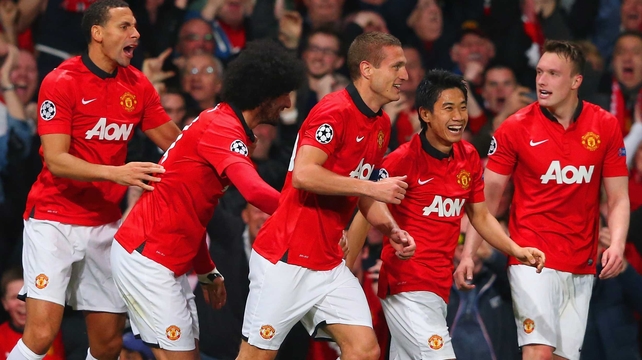 Nemanja Vidic gave United the lead against Bayern
An away goal gives Bayern Munich the edge ahead of next week's return leg but Manchester United boss David Moyes senses a chance of a famous win after last night's 1-1 draw at Old Trafford.
"Hopefully tonight shows we will go there, and we will go toe to toe with them and we will try to come out on top," said Moyes.
"It is a tough tie but we all believe we have got a chance.
"Our best football has been in this competition and we will need to show our best football when we go to Bayern next week."
Bayern, not unexpectedly, dominated possession in the first half and it took a fine save from David De Gea to deny Arjen Robben the opening goal.
Yet United arguably had the better chances before the break, not least when Danny Welbeck – who also had an early goal disallowed – failed to beat Manuel Neuer after breaking clean through.
They raised their intensity after the break and broke through when Vidic headed home a Rooney corner but Bayern changed their approach by sending on forward Mario Mandzukic and pulled level.
Moyes said: "I am happy with the performance, but a bit disappointed with the result in the end.
"I'm a bit disappointed we couldn't take one of the other chances we had but we played a great team tonight in Bayern Munich."
Bayern boss Pep Guardiola was unhappy with the decision to dismiss Schweinsteiger by Spanish referee Carlos Velasco Carballo, but did not give his reasons.
Asked if he saw an apparent 'diving' gesture by Schweinsteiger, Guardiola said: "I didn't see, but I spoke to the referee.
"He is a very good referee. He made a very, very good game, but it is unfair.
"But it is okay. To win the Champions League you have to solve and overcome everything. In football this kind of thing happens."
Guardiola, who also had a minor spat with an English journalist in his post-match press conference, was pressed further on the matter but refused to elaborate.
On the tie, he said: "It is not an exceptional result but it is good enough considering how good Manchester United are."
User contributions and/or comments do not, unless specifically stated, represent the views of RTÉ.ie or RT&Eacute.
Click here for Terms of use

RTÉ Sport sport headlines