Updated: Wednesday, 01 Jan 2014 22:42 | Comments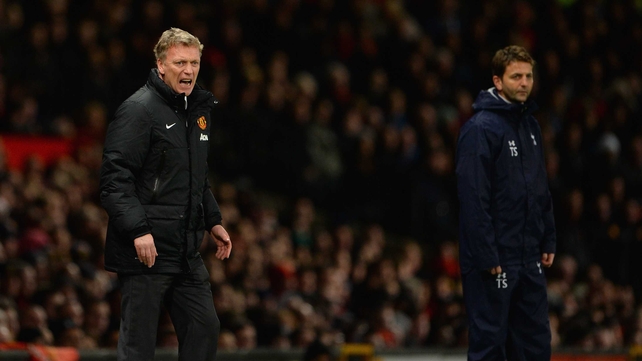 An animated David Moyes attempts to rouse his troops at Old Trafford
David Moyes branded referee Howard Webb's decision not to award a penalty and send Hugo Lloris off for a challenge on Ashley Young during Tottenham's 2-1 win over Manchester United as "scandalous".
United were desperately searching for an equaliser at Old Trafford when Lloris came racing out to meet Young, who had charged into the area.
Young got to the ball first, sending an effort towards goal, but then was forced to leap above Lloris to avoid being clattered by the Frenchman. However, Webb remained unimpressed, rejecting United's penalty claims – much to Moyes' disgust.
"It was scandalous," said Moyes.
"If you follow through on a player anywhere else on the pitch with your foot high, it would be a sending-off and a red card. You couldn't do that anywhere else.
"The goalkeeper comes out, Ashley Young gets the ball before him and he follows through.
"It's an incredible decision which didn't go our way, in fact probably the one of the worst I think I saw."
Moyes' fury was compounded by Adnan Januzaj being booked, seemingly for diving, for the third time this season, even though the challenge from Danny Rose which preceded the fall was a pretty firm one.
"Have you seen that decision? That is a terrible decision," said Moyes.
"Adnan has got bumped. The boy has tried to edge him off the ball."
In addition, United felt Spurs could have been reduced to 10 men when Lloris appeared to handle outside his own area early on.
On that ruling, Moyes was more forgiving.
He rejected the notion that Webb may have been overcompensating for claims on social media – totally unfounded – that the South Yorkshire official is a United fan.
"I don't know anything about that," said Moyes.
"All I can tell you is that (Lloris' challenge on Young) is a stonewall penalty kick.
"If that isn't given a penalty kick, I don't think we will get any more in the league this season."
Clearly, Moyes feels referees' chief Mike Riley needs to step in.
"It is reckless, it is late, it is in the penalty box," said Moyes.
"I don't know what else you can say.
"You'd hope the people who put the referees out there would have a look at it and see if they think the referees are doing as well as they can be."
The row can only partially obscure a fourth home defeat of the season for United, the quickest they have achieved such a sorry position since 1986.
Despite dominating possession, chances were hard to come by and Emmanuel Adebayor put Tottenham ahead with a precise header before the break.
Antonio Valencia's limitations as a makeshift full-back were exposed by Christian Eriksen after half-time and although Danny Welbeck pulled one back almost immediately, the equaliser would not come as United dropped to seventh, leapfrogged by their opponents.
"I am not frustrated," said Moyes. "I thought we played really well.
"Today was a defeat of course, but we deserved to win, or at worst draw."
Wayne Rooney completed the full 90 minutes despite looking some way short of match fitness as he manages a groin problem that may mean him sitting out further games after missing Saturday's trip to Norwich.
"If I could (rest him), I would," said Moyes. "But the games are coming thick and fast.
"He has missed a couple with his groin and may well miss some more in the games coming up."
It now seems impossible for United to retain their Premier League title, with even fourth-placed Liverpool five points ahead.
With FA Cup and Capital One Cup matches against Swansea and Sunderland to come United at least do have a break from the rigours of a Premier League campaign they have found so troublesome.
Yet Moyes insists the latest setback will not affect his January transfer window plans.
"The result today would never have any effect on what we do, whether in January or the summer," he said.
"It wasn't our day but it won't change the way we go about our business."
If, after a run of six successive wins, it was a case of two steps forward and one back for United, Tim Sherwood's honeymoon period at White Hart Lane continues.
Spurs have collected 10 points from a possible 12 over the festive period, providing the perfect platform to head into Saturday's FA Cup showdown with Arsenal.
And Adebayor is a man transformed, scoring four goals in five games since being brought in from the cold by Sherwood after his exile under Andre Villas-Boas.
"We know he is one of best in league and when he performs as he is at the moment he's almost unstoppable," said Sherwood.
"I have no reason to believe he won't keep it going.
"He's massively important to us. He seems happy in himself and wants to play every minute.
"I am amazed (how quickly he has reintegrated) because he's not had too much of a pre-season either."
As Sherwood noted, it makes Adebayor susceptible to injury and the Togo forward was carried off immediately after Welbeck's goal, apparently with an acute case of cramp.
"It's always a danger you're going to break down and I hope he's not too badly injured," said Sherwood.
"He's got ice on every part of his body so we're not sure which (part) is hurting him more."
Adebayor is making a vital contribution at a time when Tottenham's resources are stretched by a crippling injury list, which includes Jermain Defoe, with reports also linking the England star to Major League Soccer.
"I have heard nothing regarding Jermain," said Sherwood, who added that his preference would be to get over the short-term personnel shortage by using younger players rather than buying new ones.
"When we have got everyone fit, we don't need any players," he said.
"We have to assess how long some of them are going to be out, because no-one is going to want to come for three weeks.
"You have to give these guys long-term contracts, so unless it was someone who was going to make the squad better, I'd rather go with the kids."
Sherwood is making a positive impact after the problems Villas-Boas encountered.
And he is having good fortune as well given his refusal to make any apologies for what he admitted should have been a penalty when Lloris went in on Young.
"At the time I thought it was a penalty," he said.
"It's one of them that could go either way but if we have got away that one I'm pleased because I remember coming here with Harry (Redknapp). We were 2-0 up at half time and (Heurelho) Gomes made a save, he quite clearly played the ball first but they got a penalty.
"They even themselves out."
User contributions and/or comments do not, unless specifically stated, represent the views of RTÉ.ie or RT&Eacute.
Click here for Terms of use

RTÉ Sport sport headlines