Updated: Monday, 23 Dec 2013 10:17 | Comments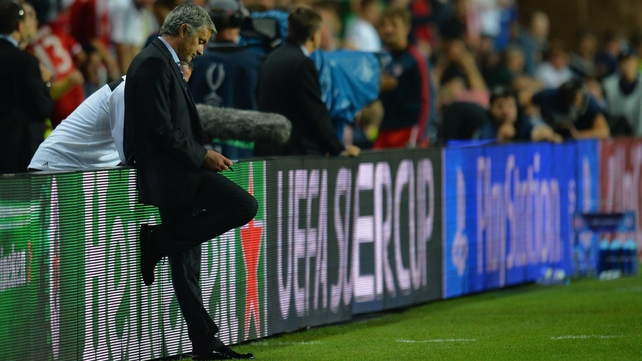 Jose Mourinho insists that Chelsea's season will not be defined by their game with Arsenal
Chelsea boss Jose Mourinho has downplayed the significance Monday night's crunch clash at Arsenal will have on the Premier League title race.
A third successive win at the Emirates Stadium would take the Blues one point ahead of Arsenal and level at the top of the table with Liverpool, visitors to Stamford Bridge on 29 December.
Some suggested the 6-3 loss at Manchester City showed Arsenal's shortcomings and that they are not ready to challenge for the title.
Mourinho, who has never been beaten by Arsenal boss Arsene Wenger in nine meetings, insisted the result in Chelsea's first of four games in 10 days will have little bearing on a title race, but believes the festive programme could filter down the contenders.
"I don't think it makes a big difference," Mourinho said. "If they lose, they will be one point behind the leaders.
"After the Christmas period – three matches, plus the one on January 1, four matches – after these four matches we can have a feeling. Maybe some gaps will be open, some gaps will close.
"I don't think it will make a big difference for them. I think they will feel they are strong contenders, and I respect them as that."
Chelsea's Premier League position belies their continual failings, not least in front of goal, and they lost in the Capital One Cup at Sunderland last week.
Mourinho has repeatedly bemoaned his strikers' shortcomings – Fernando Torres, Samuel Eto'o and Demba Ba have five Premier League goals between them all season, none away from home – but he does not expect Chelsea to be active in next month's transfer market.
The self-proclaimed Special One, who pursued Manchester United's Wayne Rooney last summer, insists the Blues will wait until the summer to sign the striker he covets, when Torres, Ba and Eto'o could be offloaded.
"We trust they can help us to the end of the season," Mourinho said.
"In the summer, the picture changes because it's a market with different perspective from the winter market. It's time for us to try to get the man that could be the ideal one for us. In this moment, we're not going to."
Kevin De Bruyne could be allowed to leave sooner.
The Belgium forward signed for Chelsea in January 2012, but has spent most of his Blues career on loan until this season, when he has been frustrated by a lack of first-team opportunities.
"We are analysing the situation but no decision has been made," Mourinho said.
"The market is open until January 31 and we are not going to make a decision on January 1, for sure."
De Bruyne has been linked with a move to Germany with Chelsea having a buy-back option, a scenario Mourinho did not dismiss.
"He's a very good player," Mourinho said.
Mourinho did dismiss the prospect of Ashley Cole departing next month, despite the England left-back falling out of favour, with Cesar Azpilicueta again set to be preferred at Arsenal.
User contributions and/or comments do not, unless specifically stated, represent the views of RTÉ.ie or RT&Eacute.
Click here for Terms of use

RTÉ Sport sport headlines