Wednesday 26 March 2014 07.14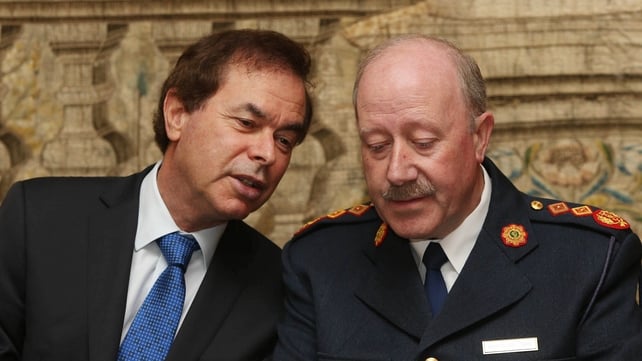 A spokesperson for Alan Shatter said he will deal with the matter in the Dáil today
RTÉ News has learned that the Department of Justice was informed earlier this month that journalists, members of the gardaí and a witness in a criminal investigation, were among those whose conversations were recorded and retained in Garda Stations.
The information was furnished in a letter by the former Garda Commissioner Martin Callinan, who asked that it be brought to Minister for Justice Alan Shatter's attention.
The letter was sent on 10 March, five days before the minister left for Mexico for St Patrick's Day and 11 days before he returned.
However, a spokesperson for Mr Shatter, said while he was made aware of the letter on Monday he only saw it yesterday.
The letter informs the Department about the tape recordings in Garda Stations and the fact that the Attorney General had been consulted four months previously and a working group established.
It also states that the conversations of journalists seeking information, members of the gardaí and a witness in a criminal investigation had been recorded.
It states these conversations took place on various dates in the 1990's, and that the analysis of the more than 2,400 recordings was continuing.
The Interim Commissioner Nóirín O' Sullivan, is compiling a report on the matter for Mr Shatter, who is expected to address the issue in the Dáil today.
Minister Shatter will make a statement in the Dáil today
Minister Alan Shatter, will begin delivering a 15 minute long statement on the issue in the Dáil at 10:45 this morning.
This will be followed by 15 minute long statements from Fianna Fáil, Sinn Féin and Technical Group deputies.
The issue is also expected to be raised during Leader's Questions, which begins at midday.
TDs will discuss enquires into the recording of phone calls to Garda stations and the force's handling of the penalty points issue.
The Dáil is expected to first focus on the proposed Commission of Investigation into the systematic recording of phone calls to some Garda stations, linked to the departure of Garda Commissioner Martin Callinan yesterday.
Fianna Fáil and Sinn Féin want explanations about the letter from Mr Callinan, in which he insists he told the Attorney General about the issue last November.    
The Attorney General might not technically be a member of Government, but the opposition maintain the letter undermines claims from The Taoiseach Enda Kenny and his ministers, that they only learned of the practice over the weekend.
Later TDs will debate the report that was critical of the administration of the penalty points system.
The Garda inspectorate found fundamental shortcomings in the scheme and recommended wide ranging reforms.  
Opposition TDs will be pressing the Mr Shatter to withdraw earlier remarks, claiming two garda whistleblowers who uncovered the abuses did not cooperate with an internal enquiry.
TOP STORIES

RTÉ News – News Headlines