Thursday 30 January 2014 10.59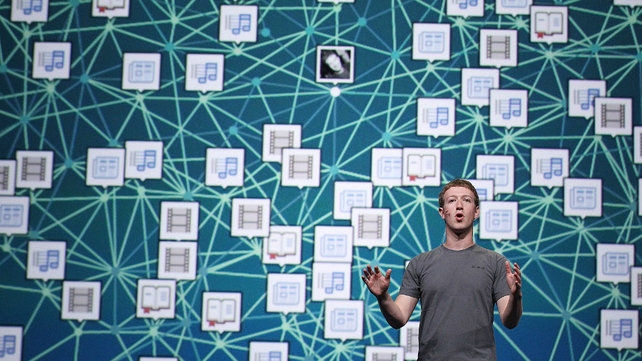 Facebook's quarterly results beat Wall Street targets
Facebook delivered its strongest revenue growth in two years, beating Wall Street targets as the internet company's mobile ad sales continued to accelerate.
              
Shares of Facebook surged 12% in after-hours trading last night.
The world's largest social networking company said that revenue from mobile ads represented 53% of its total advertising revenue in the last three months of the year, or $ 1.24 billion, versus the 49% proportion that mobile ads represented in the third quarter.
              
Facebook said it now has 1.23 billion monthly users, with 945 million accessing the service on a smartphone or tablet.
Facebook's newsfeed ads, which inject paid marketing messages straight into a user's stream of news and content, have boosted Facebook's revenue and its stock price in recent months.The ads are ideally suited for the smaller-sized screens of smartphones and other mobile devices.
              
The average price per ad on Facebook has surged 92% in the past year, the company said, even as the total number of ad impressions on Facebook declined 8%.
              
In a conference call with analysts last night, Facebook chief executive Mark Zuckerberg said the focus going forward was to improve the quality and the relevance of the newsfeed ads, rather than boosting the amount of ads in users' newsfeed.
              
Among the other priorities for the coming year, Zuckerberg said the company would focus on creating new stand alone products and on improving Facebook's nascent search product.
Facebook had unnerved some investors in October when it said that it noticed a decrease in daily users among "younger teens." The remarks raised fears that teen Facebook users might be drifting to new messaging services such as Snapchat and WhatsApp.
              
Facebook's finance chief David Ebersman said the company did not have an update to share about teen usage during the quarter, though the company noted that overall user "engagement" had increased throughout 2013.
              
Roughly 61.5% of Facebook's 1.23 billion monthly users visited the site every day in the fourth quarter, an increase from the 58.3% ration in the fourth quarter of 2012.
Overall revenue in the fourth quarter rose to $ 2.585 billion, compared with $ 1.585 billion the same time the previous year and above the $ 2.33 billion expected by analysts.
              
Ebersman said that expenses in the coming year would likely increase around 35-40%. He did not provide a revenue forecast for 2014.
              
Facebook reported net income of $ 523m, or 20 cents ashare, compared to $ 64m or three cents a share the same time the previous year. Excluding certain items, Facebook said it earned 31 cents a share, beating the 27 cents per share that analysts were expecting. 
TOP STORIES

RTÉ News – Business Headlines