1 of 4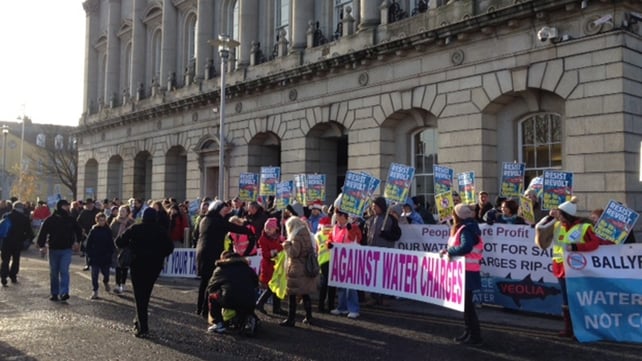 Protesters at Heuston Station on their way into Dublin city centre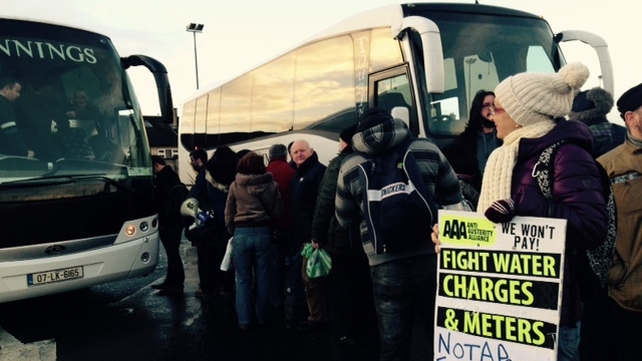 Protesters board buses in Limerick ahead of the demonstration in Dublin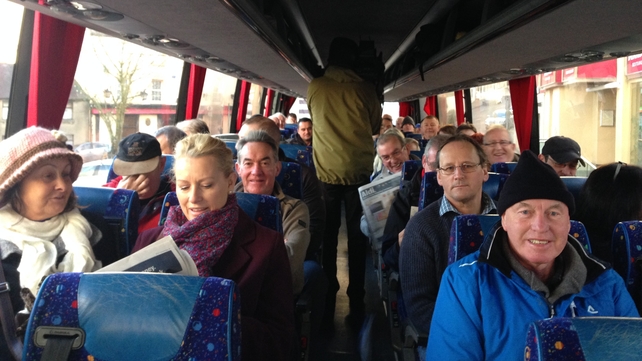 People leave Waterford to travel to the protest in Dublin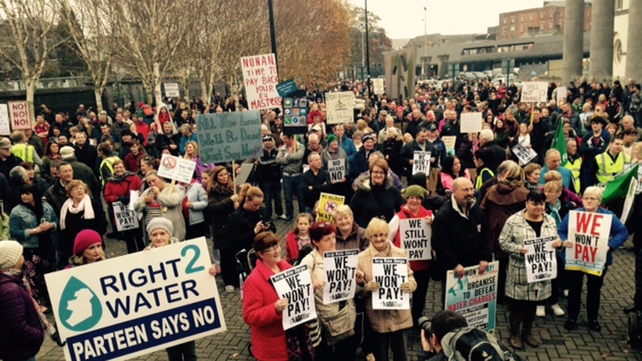 Demonstrations have been held around the country in recent months
Minister for the Environment Alan Kelly has said that he does not envisage any change to the water charges.
Speaking ahead of the anti-water charge protest this afternoon, he also said he has not seen a realistic alternative from the Opposition on how they will pay the billions needed to improve water infrastructure.
On the expected turnout for today's protest, he said he does not get into figures and it was not an issue for him.
He also said the water issue could have been handled better by the minister who preceded him.
Earlier, Minister of State at Department of the Environment Paudie Coffey said there will be no change in the Government's policy on water charges despite today's protest in Dublin.
Speaking on RTÉ's Morning Ireland, he said the Government was putting in place a national utility to invest in essential infrastructure.
He said the Government recognises peoples' right to protest and it had listened and acted and revised the water charging system, which will cost €1.15 a week for a single household or €3 for a multiple-person household.
"That's for the provision of drinking water but also to pay for the disposal and treatment of raw sewerage."
Mr Coffey said the Government had moved as far as it can and that alternatives proposed by opponents such as Anti-Austerity Alliance TD Paul Murphy are not sustainable.
"I think If we look closely at what that economic argument is, it's  to raise further taxes on working people to pay for this water".
Asked about the possibility of people not paying, Mr Coffey said almost 950,000 people had already registered with Irish Water and the Government expected that one million will have registered by Christmas.
Mr Murphy has said he expects today's protest outside Government Buildings to be a very significant one.
He said people will come out in big numbers because they have not been satisfied by the new package on water charges announced last month by Minister for the Environment Alan Kelly and have not been fooled by it.
Mr Murphy said people will be demonstrating their anger at the Government but it will be a peaceful, family-friendly event.
Speaking on the same programme, he said: "If we don't defeat the water charges and bring down the Government in the aftermath of this – the way we'll do it is in April when the bills come with the massive boycott that will completely undermine these charges and make them unworkable.
"Water charges must be defeated. Any charge for water whatsoever represents the start of the commodification of water – charges will only go in one direction, which is up – and it will lead to privatisation." 
He said he was not at the water charge debate in the Dáil that continued until the early hours of this morning, because he said he had to attend a Right2Water meeting and was then preparing for today's protest.
He said four campaigners from Detroit are joining the protest and when asked who funded their trip, he said:  "I think they were funded by the unions involved in the Right2Water campaign".
Meanwhile, traffic restrictions are in place in Dublin city centre this morning ahead of the anti-water charge protest.
Gardaí have urged those taking part in the protest to do so peacefully.
The protest is the latest in a number of anti-water demonstrations which have taken place across the country in recent months.
With large crowds expected, gardaí say they have liaised closely with the organisers to facilitate a peaceful demonstration. 
A number of roads, including Kildare Street and Molesworth Street, will be closed to traffic and parking restrictions are in place on Merrion Square.
The main protest organised by the Right2Water group will begin at 1pm.
Speakers including politicians and union leaders, will address the crowd there.
Right2Water has described today's event as "family-friendly" with music and comedy acts.
Feeder marches from both the north and south of the city will converge at the main stage on the junction of Merrion Square South and Merrion Square West.
Buses carrying protesters are leaving Galway, Sligo, Cork, Waterford, Kerry, Tipperary, Clare and Limerick this morning.
More than 1,000 people are expected to travel from Cork city and county in buses organised by various campaign groups and many more are expected to make their own travel arrangements.
Members of the Detroit Water Brigade, who are taking part in the demonstration, will visit Cobh in Co Cork tomorrow afternoon, where an anti-water metre campaign is continuing.
The delegation will address a Right2Water meeting in Cork city tomorrow night.
The Detroit Water Brigade claims that 40% of the population in Detroit is facing having its water cut off.

RTÉ News – News Headlines