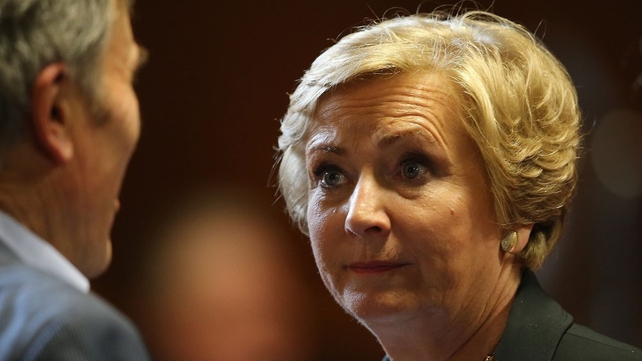 Minister Fitzgerald said the Ombudsman should publish the report as fully as possible
Minister for Justice Frances Fitzgerald has said she has confidence in the members of GSOC following demands this week by her predecessor for them to resign. 
In a speech to the Dáil on Wednesday Alan Shatter said it was "unacceptable and contrary to the public interest that the current GSOC commissioners remain in place" after the source of the leak about bugging from the Commission could not be found. 
Speaking today, Minister Fitzgerald insisted she had 'full confidence' in GSOC but reiterated her demand that they publish their report into the leaking of information to a newspaper.
Ms Fitzgerald said the Ombudsman should publish the report by senior counsel Mark Connaughton as fully as possible in the near future. 
 
On the separate issue of work stoppages by prison officers, Minister Fitzgerald said she was disappointed and called on them to continue talking with the Prison Service.
Prison Officers have been taking industrial action over their concerns for health and safety.
She said the prison population had actually reduced substantially in recent times. 
The Minister was speaking at a criminal justice conference in Wheatfield Prison where she called for a greater focus on reducing reoffending. 

RTÉ News – News Headlines