Updated: Saturday, 12 Apr 2014 11:07 | Comments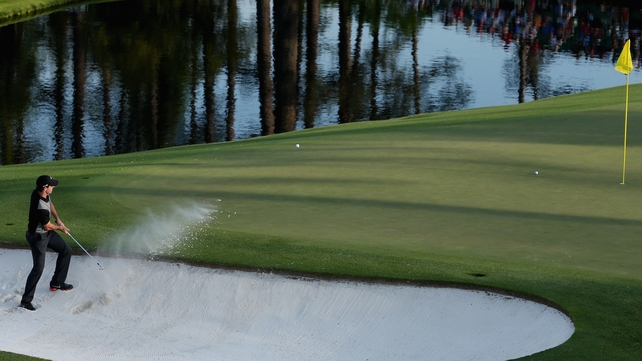 Rory McIlroy suffered on the second day of the Masters
Rory McIlroy admitted it would be "nearly impossible" to win the Masters after scraping into the final two rounds at Augusta National.
McIlroy did not realise he had to par the last to make the cut on the mark of four over par, but held his nerve from four feet to complete a disappointing – and admittedly unfortunate – 77.
"It was very frustrating. I just really couldn't get anything to go my way," McIlroy said. "I had a couple of really bad breaks on four and 13.
"I got a really massive wind switch on four [his tee shot flew the green and almost hit Adam Scott on the fifth tee] and then hitting the sprinkler on 13 to go up into the azaleas.
"I felt like I played well coming in. I gave myself looks at birdie almost every hole. I couldn't get one to drop.
"I didn't know that putt on the last was to make the cut, but when I got into the scoring area and saw that I was in (joint) 46th place, it was a bit of a sigh of relief that I'm here for the weekend.
"I just want to go out there and try to get off to a fast start. Eleven shots back (of leader Bubba Watson) with two rounds to play is going to be nearly impossible to make up so I'm trying to shoot two really low rounds and see where that puts me at the end of the week.
"It will take something phenomenal to shoot something in the mid-60s and get myself back under par going into the last day. But I'm going to need to be two, three or four under par going into the last day to have any sort of chance."
Defending champion Adam Scott also looked to be drifting out of contention when he dropped three shots in his first five holes, but the Australian birdied the 12th, 13th and 15th to shoot 72 and finish just four behind 2012 champion Watson.
"I was a little frail but patience came into it on the back nine and I just tried to remember all the good shots I hit yesterday," Scott said.
"It's good to be within shouting distance but tomorrow is a big day for everyone. I would like to close the gap to feel in with a chance on Sunday."
User contributions and/or comments do not, unless specifically stated, represent the views of RTÉ.ie or RT&Eacute.
Click here for Terms of use

RTÉ Sport sport headlines