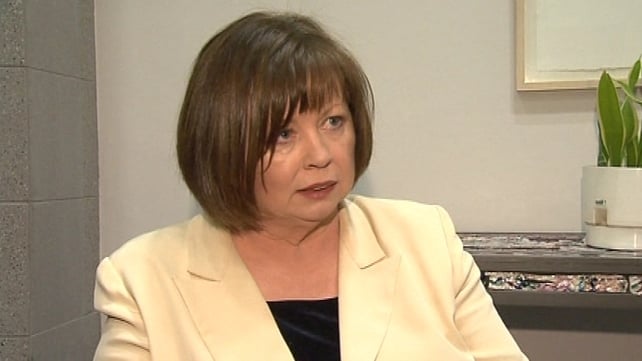 Former Tánaiste Mary Harney denied closing down an inquiry into the tax evasion scheme to avoid political embarrassment
The Revenue Commissioners are due to appear before the Dáil Public Accounts Committee today when the issue of the Ansbacher accounts is likely to be raised.
Last night, former Tánaiste Mary Harney denied closing down an inquiry into the tax evasion scheme to avoid political embarrassment.
Sinn Féin's Mary Lou McDonald, named a number of former ministers cited by the inquiry in the Dáil yesterday.
Mary Lou McDonald raises the Ansbacher issue in the Dáil
She has written to Taoiseach Enda Kenny demanding an inquiry into claims that the inquiry into tax evasion was shut down by then Ms Harney when Des O'Malley's name emerged.
He and the others named have denied any involvement.
The Sinn Féin claim was emphatically rejected by Ms Harney last night, when she said the authorised officer Gerard Ryan was given ample time to complete his report.
The PAC's legal advice is that they cannot pursue allegations against individuals but the Ansbacher issue is sure to be raised, as Mr Ryan, now a legally protected whistleblower has furnished members with his bulky dossier of allegations.
Ms McDonald is a member of the PAC but her call for a full inquiry is unlikely to be heeded by the Government  who regard the affair as another Sinn Féin stunt. 
Labour TD Joe Costello has accused Ms McDonald of undermining the work of the PAC, and of breaching Dáil privilege and procedures.
Mr Costello, a member of PAC, said Ms McDonald has expressed frustration at the slow pace of the inquiry into allegations of tax evasion by whistleblower Mr Ryan.
But, he said, this was no justification for her Dáil statement in which she named several former politicians.
Mr Costello also described the Sinn Féin TD's Dáil statement as a "stunt". 
"We are endeavouring to explore every avenue to the work that we hope that we can do, and this is part of what we're doing today.
"That's why I'm so annoyed that not only has there been such a breach of the Dáil procedures and privilege … by Mary Lou McDonald, but that it has undermined the work of the Public Accounts Committee."
He said the PAC had received the dossier from the authorised officer and had since been endeavouring to find all avenues to explore its contents.
He said a lot of work had been done and a lot had still to be done.
Mr Costello said everyone was "frustrated" with the difficulties in conducting the investigation, and the PAC wanted to explore it to the full.
While they had received conflicting legal advice as to what they could do, they had also received advice that indicated mechanisms by which they could move forward.
He said the Ms McDonald's naming of people in the Dáil, against whom there were only allegations and nothing proven, was "compounding the matter".
Meanwhile, the chairman of the PAC has said that the naming of people under privilege in the Dáil by Deputy McDonald could dissuade whistleblowers from speaking out.
Speaking on RTÉ's Morning Ireland, John McGuinness, said: "I think that this damages the prospect of people having the confidence to come forward and to deal with issues within their organisation.
"Secondly, in relation to naming names, it should not have been done.
"I think it damages, to a degree, the process whether it be Public Accounts or any other committee and it does not give confidence to individuals to come forward and make the reports that they feel need to be made," he said. 

RTÉ News – News Headlines