Updated: Tuesday, 24 Dec 2013 13:48 | Comments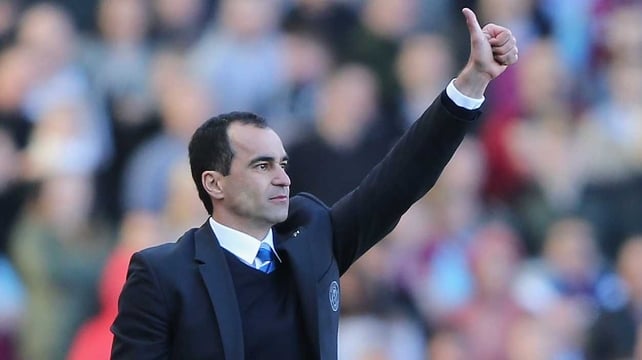 Roberto Martinez insists it's too early to speak of Everton as title hopefuls
Everton boss Roberto Martinez claims it is far too premature to think of his side as title contenders.
The Toffees head into Christmas just two points off the top of the Barclays Premier League, having lost just once.
Further victories over the festive period – they face Sunderland and Southampton in back-to-back home games in the space of three days this week – would enhance a feeling they could push for a first league crown since 1987.
But Martinez said: "We are in December. I would not be foolish enough to speak about the league. It is too early in the season.
"All we are doing is trying to be very consistent in our performances.
"The stats reflect that – only one defeat in 17 is a consistent way of performing.
"The next thing is to carry on developing, carry on working hard. I feel we haven't reached our full potential and that excites me.
"That is the only focus that we have through this festive period. We just want to get to April with the biggest amount of points we can.
"That is the moment to sit down and look at the table and set the aims for the season in the league campaign."
Avoiding defeat in the next two games would see the Merseysiders go unbeaten in the league at Goodison Park throughout 2013.
Everton have not lost at home in the competition in almost a year, their last defeat coming against Chelsea on December 30, 2012.
Martinez said: "I don't think that is a stat we want to be focusing on. Obviously we want to win every game we go into.
"The reality is if you get an award or a trophy for doing that, we would consider that, but what we want is to finish as high as we can at the end of the season, and the home form is going to be vital for that.
"It is something special at Goodison. The fans and the players have a real unity that helps you to get through adversity and disappointment.
"That has been a real advantage and we don't want that to change."
Martinez is not reading much into the position of St Stephen's Day visitors Sunderland at the bottom of the table.
History is against the Black Cats with only one side in Premier League history – West Brom – having recovered from being last at Christmas to avoid relegation.
But Martinez has seen signs of recovery under their new manager Gus Poyet, who took charge in October, and believes they can avoid the drop.
He said: "When you have got a team that is capable of beating Man City in the manner that they did, you know they are going to get wins against anyone.
"They have been going through a transitional period.
"The new manager has brought different ideas.
"It was a phenomenal performance against Manchester City. They have got good footballers and they can hurt you in possession.
"This league can be very tough. You are not going to get an outstanding win and then link it up with another two or three good results – it doesn't happen when you are down there.
"But if you have got the quality to get that outstanding result, it shows you can get enough results coming strong in the final third of the season.
"I see Sunderland being a team that grow into the season and finish the season really strongly.
"The team is starting to get used to his ideas and his vision. I know he is going to bring a lot of success to Sunderland.
"We will have to be at our best and prepared for a tough afternoon."
Everton could welcome back England left-back Leighton Baines after a month out with a broken toe.
User contributions and/or comments do not, unless specifically stated, represent the views of RTÉ.ie or RT&Eacute.
Click here for Terms of use

RTÉ Sport sport headlines