Wednesday 05 February 2014 11.56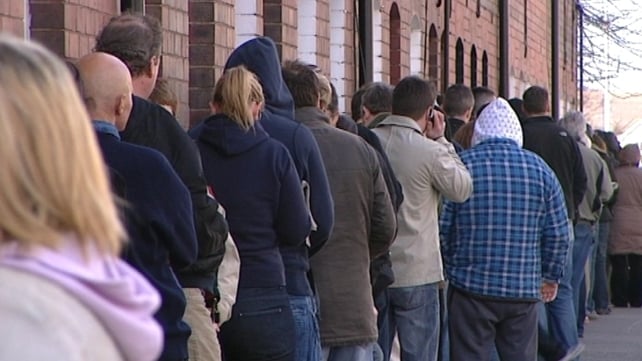 Standardised unemployment rate fell to 12.3% in January from 12.4% in December
New figures from the Central Statistics Office show that the numbers signing on the Live Register fell by 2,300 in January on a seasonally adjusted basis.
This brings the total on the Live Register to 400,700 and marks the 19th monthly decrease in a row.
The CSO figures also show that the standardised unemployment rate fell to 12.3% in January from a rate of 12.4% in December. 
This level of joblessness was last seen in June 2009 and compares to an unemployment rate of over 15% in 2012.
Today's CSO figures show that the number of male claimants on the Live Register fell by 9.1% to 248,723 over the year, while female claimants fell by 3.1% to 150,907.
They also reveal that the number of male long term claimants decreased by 7.2% in the year to January 2014, while females increased by 2%, giving an overall annual decrease of 4.5% in the number of long term claimants. 
In the year to January, the number of people aged 25 and over on the Live Register decreased by 6.1% and the number of people aged under 25 fell by 11.4%.  
The CSO noted that annual falls in youth unemployment have occurred every month since July 2010.
Commenting on today's figures, Investec Ireland's chief economist Philip O'Sullivan said that while the return to net job creation in the economy is undoubtedly helping to chip away at the unemployment rate, emigration also undoubtedly remains a factor. 
The said the ratio of over-25s to under-25s on the Live Register now stands at 5.5:1, well above the average of 4.1 seen during the years between 2003 and 2008. 
Merrion economist Alan McQuaid noted that the headline January unadjusted total was down 29,800 in the year at 399,600. He said this compared to annual falls of 28,300, 25,800, and 23,700 in December, November and October respectively. 
"Although the recovery path for the labour market won't entirely be smooth, we do think that the level of unemployment will continue to fall over the course of 2014. It does now appear as though the jobless rate has peaked, and we are now looking for it to fall back to 11.8% on average this year from 13.2% in 2013, which itself was the lowest level since 2009," Mr McQuaid said.
TOP STORIES

RTÉ News – Business Headlines