Wednesday 23 April 2014 06.18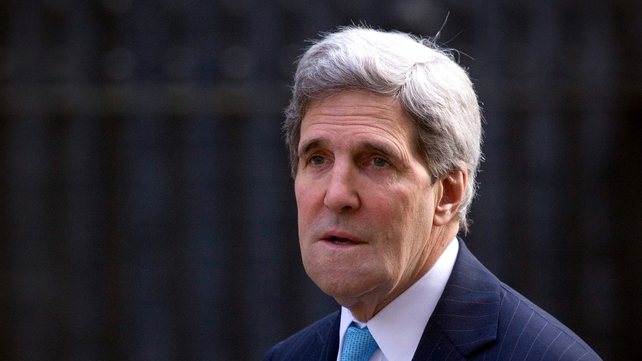 John Kerry said US would impose additional sanctions on Russia if tensions in Ukraine were not de-escalated
US Secretary of State John Kerry has told Russian Foreign Minister Sergei Lavrov in a telephone call that Washington would impose more sanctions on Russia if tensions did not de-escalate in eastern Ukraine, a senior US official said.
The official said Mr Kerry talked to both Mr Lavrov and Ukrainian Prime Minister Arseny Yatseniuk.
"With Foreign Minister Lavrov, the secretary expressed deep concern over the lack of positive Russian steps to de-escalate" 
"[He also] cited mounting evidence that separatists continue to increase the number of buildings under occupation and take journalists and other civilians captive," he said.
"He urged Russia to tone down escalatory rhetoric, engage diplomatically in the east with the OSCE and Ukrainian government, and issue public statements calling for those occupying buildings to disarm and stand down in exchange for amnesty," he added.
The official said Mr Kerry also reiterated that the absence of measurable progress on implementing last week's Geneva agreement would result in increased sanctions on Russia.
In Moscow, the Russian Foreign Ministry said Mr Lavrov had told Mr Kerry that Ukraine must take urgent steps to implement the Geneva agreement aimed at defusing the Ukraine crisis.
The US official said Mr Kerry had told Mr Yatseniuk that Kiev must take important steps as well to de-escalate tensions, "including progress on amnesty legislation, steps toward broadening the national dialogue on constitutional reform to include representatives of all regions and close coordination with the OSCE monitoring mission."
Washington has said it would decide "in days" on additional sanctions if Russia does not take steps to implement the agreement.
The US also announced that it is deploying 600 troops to Poland and the three Baltic countries that border Russia. 
The White House says this is to fulfil what it calls its commitment to security obligations in Europe.
The first 150 troops [from the 173rd Airborne Brigade] are due to start arriving in Poland later today, with an additional 450 paratroopers to be deployed in Estonia, Latvia and Lithuania in coming days.
The US troops will engage in live-ammunition training exercises with armed forces from the four former Soviet-bloc nations.
Ukrainian government forces are to resume operations against pro-Russian militants in the east of the country, after the mutilated bodies of two men were found near rebel-held Sloviansk.
The men – one of whom was a local politician – appeared to have been tortured to death.
TOP STORIES

RTÉ News – News Headlines