Sunday 06 April 2014 08.41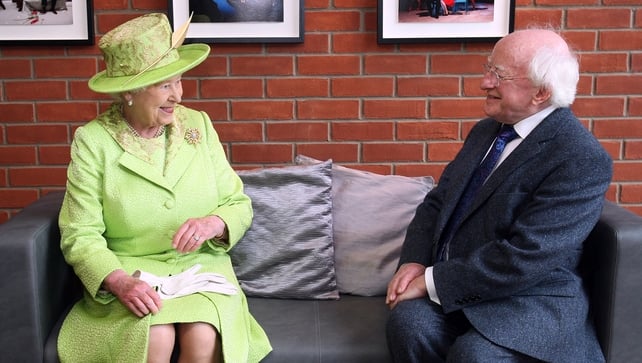 President Michael D Higgins met Britain's Queen Elizabeth in Belfast in 2012
Taoiseach Enda Kenny has said next week's state visit to Britain by President Michael D Higgins is of enormous significance and importance.
Mr Kenny said it will bring the relationship between Ireland and Britain to an unprecedented level. 
President Higgins will visit Britain for four days next week, starting on Tuesday.
It is the first time an Irish head of state has been formally invited to the UK by a British sovereign.
In an interview to be broadcast on BBC's The Andrew Marr Show this morning, Mr Kenny said President Higgins's visit is about building relations. 
He said: "Symbolically, it's of enormous importance, but also practically in that it brings the relationship between the two countries and the two peoples to an unprecedented level.
"This was unthinkable 20 years ago and it's happening next week.
"So, it's of enormous significance … for the efforts her Majesty made when she came here on her royal visit and on the participation and, indeed, excitement of the Irish people living throughout Britain."
The Taoiseach also welcomed the decision by Northern Ireland's Deputy First Minister Martin McGuinness to attend the state banquet at Windsor Castle next week.
Mr Kenny said he did not see why Mr McGuinness should not attend.
He said: "This is all part of the building of relationships between the two countries and peoples on both side of a divide.
"He's an elected member of the executive services, Deputy First Minister. We've got to move on and not be blocked by the past."
Mr McGuinness refused to attend the gala banquet in honour of Britain's Queen Elizabeth at Dublin Castle in 2011. 
Sinn Féin leader Gerry Adams confirmed yesterday that Mr McGuinness would be visiting Windsor Castle and other official events in London during the four-day visit.
"While Martin McGuinness's involvement in President Higgins's state visit may not be welcome by opponents of change, it is yet another example of Sinn Féin's commitment to an inclusive future based on tolerance and equality," he said.
"This decision may cause difficulty for some Irish republicans in light of ongoing difficulties in the north (of Ireland) but I would appeal to them to view this positively in the context of republican and democratic objectives and the interests of unity and peace on this island."
A Buckingham Palace spokesman said: "There is a long-standing practice of not commenting on individual invitations.
"That said, Her Majesty is greatly looking forward to this historic state visit and welcoming all guests to Windsor Castle."
The Queen met and shook hands with Mr McGuinness in Belfast two years ago, in what was seen as another step forward in Anglo-Irish relations.
TOP STORIES

RTÉ News – News Headlines