Updated: Monday, 17 Feb 2014 20:57 | Comments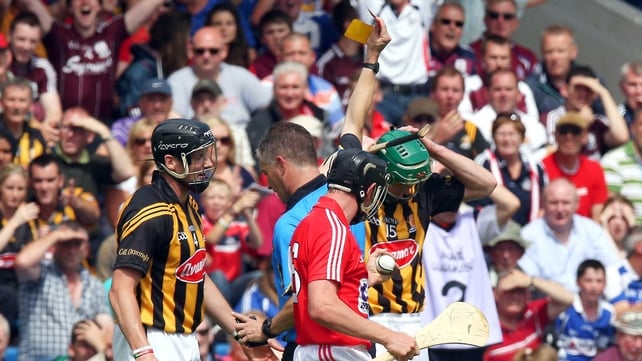 Kilkenny's Henry Shefflin receiving a second yellow card during last year's All-Ireland qualifier against Cork
Video
Audio
Eddie Keher makes it quite clear in his recently produced document that the brandishing of yellow and red cards has no place within the game of hurling.
Quite pointedly he claims that such cards are totally at variance with the "physicality and manliness" of the ancient game 
His views was supported last week by current Kilkenny manager Brian Cody, with GAA President Liam O'Neill subsequently calling for an open debate on all aspects of the game of hurling.
Others have also rowed in, with many stating that if the game ain't broke, then don't fix it.
Keher was a revered figure on the pitch during his career with the Cats, winning a total of six All-Ireland titles. When he talks, people tend to listen!
Speaking on RTÉ Radio's Today with Sean O'Rourke, Keher outlined his frustration about what he calls the needless rituals of showing cards.
He said: "I never agreed with use of cards. They were introduced in 1970 in the soccer World Cup which was a wise decision because of the language barrier.
"It enabled referees to communicate better with the players of various countries.
"I abhor the whole ritual of showing cards to our hurlers.  It's a pompous and triumphalist exercise causing humiliation to our great players in front of their families, friends and supporters.
"It's a pompous and triumphalist exercise causing humiliation to our great players in front of their families"
"We must recognise that we have a wonderful organisation, but the greatest asset we have are the players. However there seems to be an attitude to get at those players and I don't think that's the way they should be treated."
Keher went on to add that players are now at a loss as to how to tackle.
"You can't commit a technical foul. We always admired players who went for the '50-50' ball or even the '40-60' ball. They were lauded and admired. Now if you commit a technical foul, the player is consigned to a passenger for the rest of the game.
"He can't tackle or do anything. That takes away from the great physical part of our game.
Dirty play is another thing and people have misinterpreted what I said about that. I don't advocate a return to the 'Hell's Kitchen' type of hurling. I'm talking about good, physical challenges and I just don't like seeing cards bandied about in a triumphalist way.
Players are at a loss to know how to tackle without committing a foul and incurring a yellow card.
"I ask a simple question. How does a back tackle a forward who's coming in with the ball on a solo run?  It just seems now that you can't tackle a player without getting a card or worse."  
Keher was later quoted a piece written by Denis Walsh in the Sunday Times.
"Brian Cody's line about the physicality in hurling has been aired on a loop for most of the decade. Kilkenny players were programmed to give belts and take belts and not lie down.
"Their rivals realised they had no hope against them without reaching a certain threshold of machismo and hurling elite referees increasingly became facilitators rather than policemen."
In response Keher added: "There has been a lot of talk about Kilkenny's physicality.
"No opposing player that played against Kilkenny in Brian Cody's reign has had to leave the field injured, whereas six Kilkenny players were felled with serious injuries during that period which incidentally went unpunished.
"As a side they challenge for everything and that's what we like about hurling. I wouldn't like that to disappear from the game.  I agree with a lot of what Denis Walsh said."
User contributions and/or comments do not, unless specifically stated, represent the views of RTÉ.ie or RT&Eacute.
Click here for Terms of use

RTÉ Sport sport headlines