Updated: Wednesday, 18 Dec 2013 07:59 | Comments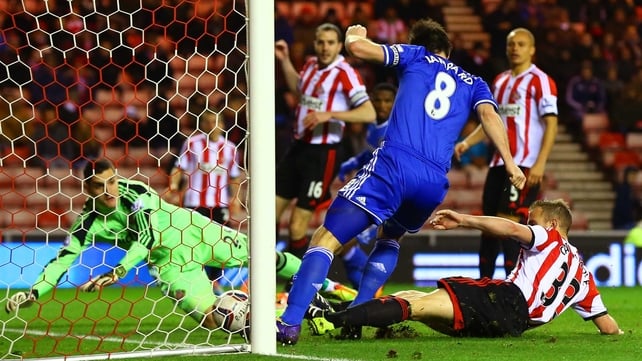 Chelsea missed a host of chances after an own goal gave Blues the lead
Jose Mourinho is reluctant to tear up his attacking blueprint despite seeing Chelsea allow a Capital One Cup semi-final place to slip from their grasp.
Sunderland midfielder Lee Cattermole's 46th-minute own goal gave the visitors a lead they held until two minutes from the final whistle at the Stadium of Light, but their failure to build upon it proved fatal as the Black Cats staged a stunning fightback to snatch victory in extra time.
Mourinho later admitted he was considering adopting a more conservative approach after a series of matches in which his players have not made their periods of pressure count, but he is loathe to send them out with the intention of winning 1-0.
He said: "If I want to win 1-0, I think I can. One of the easiest things in football is to win 1-0.
"It's not so difficult. You structure your team from the back, you organise your team from the defensive idea, you don't give freedom to your players to express themselves.
"The dynamic of the team is defensive and what you do is you recover the ball and try to punish the opponent on the counter-attack.
"To win 1-0 is not the most difficult thing in football."
Chelsea had one foot in the last four on Wearside when former Blues trainee Fabio Borini levelled, and the Italian might have won it in stoppage time but for a superb block by defender Gary Cahill.
However, it was fellow substitute Ki Sung-yueng who wrote himself into the headlines as extra time drew to a close, cutting inside to smash a low shot past keeper Mark Schwarzer to book the Barclays Premier League's bottom club an unlikely semi-final date and leave Mourinho contemplating a less offensive method.
He said: "I don't want to because we are going in a direction which is the right direction in terms of the quality of football we want to play, and it's quite frustrating that you have to change that and go one step back and go in another direction just because you want better results.
"It's something I don't want to do."
Opposite number Gus Poyet, however, emerged firmly believing his philosophy is paying dividends, and urging his players to take the same approach to Saturday's must-win league clash with Norwich.
He said: "That's the way we are going to do it. It's important I can see that the players are doing it all the time.
"Even in extra-time, even in the last two or three minutes, they were not trying just to go crazy.
"We are trying to play a game because I believe it works, and now [we have to do that] every week, every game.
"It doesn't matter who you play against at every level, if it's Norwich or if it's Carlisle in the [FA] cup, every single day, and the more we do it, the more difficult we are going to become to play against, I am sure."
User contributions and/or comments do not, unless specifically stated, represent the views of RTÉ.ie or RT&Eacute.
Click here for Terms of use

RTÉ Sport sport headlines