Sunday 27 April 2014 07.50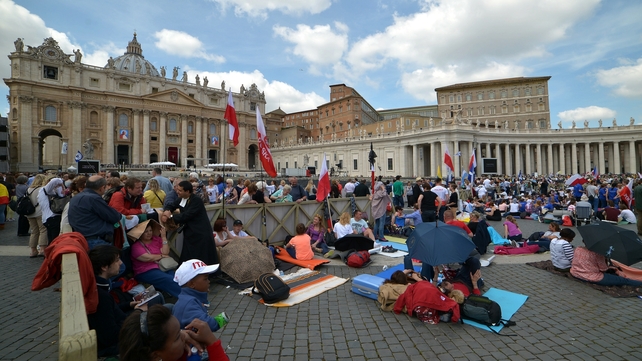 People gathered through the night ahead of the ceremony
In Rome, hundreds of thousands of pilgrims have been converging on St Peter's Square for this morning's canonisations of Popes John XXIII and John Paul II.
Taoiseach Enda Kenny will join dozens of other civic dignitaries from around the world at a special mass celebrated by Pope Francis and over 1,000 bishops.
Two popes have never been canonised together and at least one seasoned Jesuit observer says Pope Francis adopted today's novel approach to try to reconcile both new saints' followers. 
This morning's mass will allow the elders of Catholicism to restate the legacy of John XXIII, who, 52 years ago, convened the first council of the world's bishops in almost a century.
It was best-known for translating the Latin mass into the vernacular and apologising to the Jewish people for persecuting them as Christ's murderers.
Northern Italians descending on Rome to celebrate their native son have been joined by Poles and others from behind the old Iron Curtain giving thanks for Pope John Paul II.
The Polish native is best known for his contribution to the largely peaceful dismantling of Soviet-style Communism.
His global travels, his forgiving of his would-be assassin and his uncompromising teaching on sexuality are also being recalled by pilgrims.
The canonisation mass will be broadcast on RTÉ One from 8.55am.
TOP STORIES

RTÉ News – News Headlines