Saturday 08 March 2014 07.38
1 of 2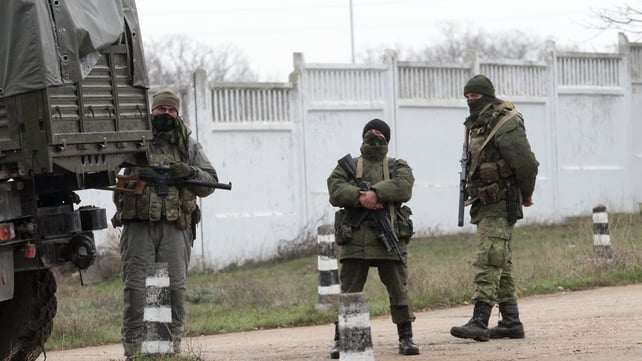 Armed men in military uniform stand guard in the territory of a Ukrainian military unit in Sevastopol (Pic: EPA)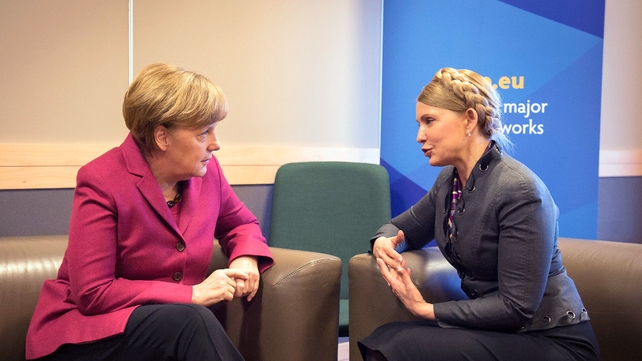 German Chancellor Angela Merkel and Ukrainian opposition Yulia Tymoshenko speaking in Dublin (Pic: EPA)
Russia has said any US sanctions imposed on Moscow over the crisis in Ukraine will boomerang back on the United States.
The Kremlin also insisted that Crimea has the right to self-determination as armed men tried to seize another Ukrainian military base on the peninsula.
In a telephone conversation with US Secretary of State John Kerry, Foreign Minister Sergei Lavrov warned against "hasty and reckless steps" that could harm Russian-American relations, the foreign ministry said.
"Sanctions … would inevitably hit the United States like a boomerang," it added.
Mr Kerry stressed the importance of resolving the situation through diplomacy and said he and Mr Lavrov would continue to consult, the State Department said.
Serhiy Astakhov, an aide to the Ukrainian border guards' commander, said 30,000 Russian soldiers were now in Crimea, compared with the 11,000 permanently based with the Russian Black Sea fleet in the port of Sevastopol before the crisis.
The Pentagon estimated as many as 20,000 Russian troops may be in Crimea.
Yesterday, armed men drove a truck into a Ukrainian missile defence post in Sevastopol, according to a Reuters reporter at the scene.
But no shots were fired and Crimea's pro-Russian premier said later the standoff was over.
Russian President Vladimir Putin denies the forces with no national insignia that are surrounding Ukrainian troops in their bases are under Moscow's command, although their vehicles have Russian military plates.
The West has ridiculed his assertion.
The head of Russia's upper house of parliament said after meeting visiting Crimean politicians yesterday that Crimea had a right to self-determination, and ruled out any risk of war between "the two brotherly nations".
The European Union, Russia's biggest economic partner and energy customer, adopted a three-stage plan to try to force a negotiated solution but stopped short of immediate sanctions.
The Russian Foreign Ministry responded angrily,calling the EU decision to freeze talks on visa-free travel and on a broad new pact governing Russia-EU ties "extremely unconstructive." It pledged to retaliate.
Senior Ukrainian opposition politician Yulia Tymoshenko, freed from prison after Viktor Yanukovych's overthrow, met German Chancellor Angela Merkel in Dublin and appealed for immediate EU sanctions against Russia, warning that Crimea might otherwise slide into war.
Brussels and Washington rushed to strengthen the new authorities in economically shattered Ukraine, announcing both political and financial assistance.
The regional director of the International Monetary Fund said talks with Kiev on a loan agreement were going well and praised the new government's openness to economic reform and transparency.
TOP STORIES

RTÉ News – News Headlines