Friday 30 May 2014 12.52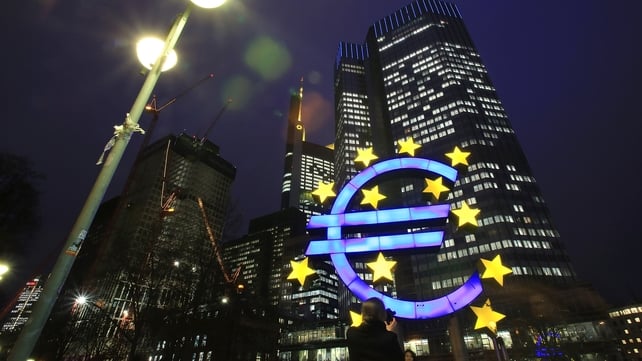 More worrying inflation data from Spain and Italy for European Central Bank
Annual consumer inflation slowed in Italy and Spain in May, heightening concerns about deflation risks in the euro zone.
The slowdown comes as the European Central Bank gears up for an expected growth-boosting shift in monetary policy next week.
Italy's EU-harmonised inflation rate eased to a weaker than expected 0.4% year-on-year from 0.5% in April, statistics office ISTAT said in Rome.
Corresponding inflation in Spain was 0.2%, down from 0.3%, data from the National Statistics Institute in Madrid showed.
The subdued data from the euro zone's third and fourth largest economies, driven by lower food costs, is likely to feed into widespread expectations that the European Central Bank will ease monetary policy significantly at its meeting next Thursday.
The ECB targets annual euro zone inflation of just under 2%, but it has been in the bank's "danger zone" of below 1% for seven months. 
Prices across the bloc rose just 0.7% in April and data due next week is expected to show that rate stayed unchanged in May, consensus forecasts show.
              
Bank of Italy Governor Ignazio Visco said the steep drop in inflation across the euro zone had surprised forecasters.
              
"This pattern has been more pronounced in the countries directly hit by the sovereign debt crisis, but it is common to the entire euro area," he said in a speech to the annual meeting of the Italian central bank in Rome.
              
Visco, who also sits on the ECB Governing Council, said the central bank was determined to act next Thursday if it decided inflation would remain well below its target over the next two years, if necessary using unconventional measures.
              
Reuters reported earlier this month that the ECB is preparing a package of policy options for its June meeting. It includes cuts in all its interest rates as well as targeted measures aimed at boosting lending to smaller firms.
              
The ECB insists it sees no bloc-wide deflation threat, but some economists fear consumers in the euro zone may delay spending plans on the assumption that goods and services will get cheaper. 
In Italy, ISTAT's May data pointed to notable monthly falls in prices for transport services, communications and recreation, while a 0.3% annual fall in food prices and a sharp 9.1% drop in prices for communications services, weighed on the annual figure.
              
Italy has dropped in and out of recession since 2008.
              
Spain, which emerged from recession last year, is experiencing a tentative pick-up in domestic demand and retail sales there rose more than forecast in April, data showed earlier this week. 
TOP STORIES

RTÉ News – Business Headlines