Friday 11 July 2014 06.35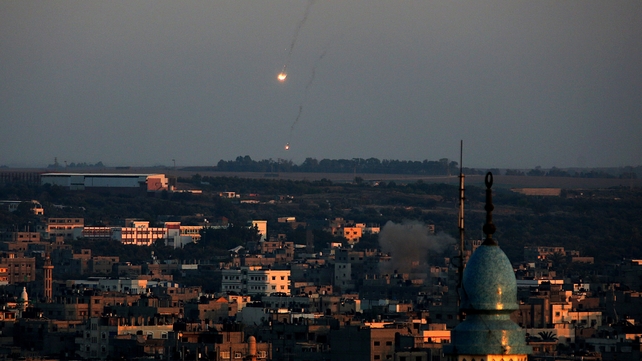 Israeli missiles light the sky over Gaza
Israeli air strikes killed six Palestinians in Gaza overnight, including one attack on the home of an Islamic Jihad militant, according to medical sources.
Five Palestinians, including a woman and a seven-year-old child, died when the militant's house in Rafah in southern Gaza was hit.
15 other people were wounded, Gaza emergency services spokesman Ashraf al-Qudra said.
Witnesses said the militant, Abdel Razzaq al-Ghannam, was not at home when the attack happened.
An air strike around an hour before killed Anas Abu al-Kass, 33, of Gaza City's Tel el-Hawa neighbourhood.
According to Mr Qudra, around 95 Gazans have been killed since Israel launched Operation Protective Edge early on Tuesday to halt cross-border rocket fire by militant groups.
Since the start of the operation, Gaza militants have fired 407 mortars and rockets that struck Israel, while another 118 rockets were intercepted by the Iron Dome missile defence system, an army spokeswoman said this morning.
It is the deadliest violence since a November 2012 conflict in Gaza, and militants have been firing rockets at Jerusalem and Tel Aviv for the first time since then.
No Israelis have been killed from the rocket fire.
Israel has also authorised the call-up of 40,000 reservist troops, as it threatens a ground operation to stamp out rocket fire from Gaza militants.
TOP STORIES

RTÉ News – News Headlines