Tuesday 08 July 2014 07.17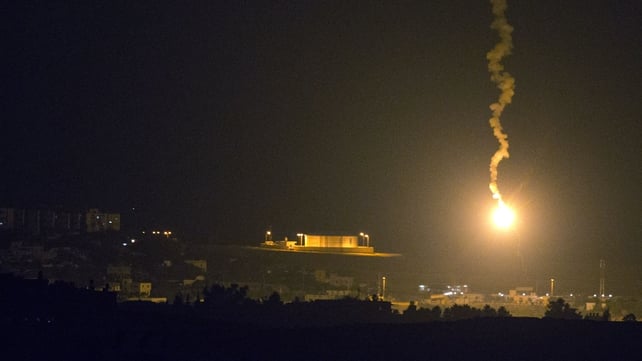 An Israeli flare lights up the Gaza coast
Israel launched an aerial offensive in Gaza early this morning, calling it part of a campaign named "Operation Protective Edge" targeting Hamas Islamist militants firing rockets at the Jewish state.
The military urged Israelis within a 40km radius of the southern coastal territory to stay within reach of protected areas.
It ordered summer camps shut as a precaution against rocket fire.
Palestinian officials said two air strikes were launched before dawn against homes in southern Gaza, one of which was identified by a neighbour as belonging to a Hamas member.
Nine people suffered shrapnel injuries. There were no other reported casualties as the buildings were believed to have been evacuated beforehand.
Witnesses said a house bombed in Khan Younis was flattened.
The Palestinian Health Ministry said nine neighbours were wounded by debris from that strike.
It said the family in the targeted home had received a telephone call from an Israeli intelligence officer asking them to leave the house because it would be bombed, and the family evacuated in time.
A military spokeswoman confirmed air strikes were launched but had no details.
Military spokesman Lieutenant Colonel Peter Lerner said in a tweet that "Operation Protective Edge is under way, targeting Hamas capabilities that are terrorizing Israel".
He said Gaza militants had fired more than 80 rockets at Israel yesterday, and military officials said more than 200 rockets have been shot at Israel in the past month.
Israeli Prime Minister Benjamin Netanyahu's security cabinet decided yesterday to increase air strikes against militants in coastal Gaza.
Political sources said ministers stopped short of ordering a ground offensive for now.
Mr Netanyahu had earlier pledged "to do whatever is necessary" to restore quiet to southern Israeli communities though he cautioned against any rush toward wider confrontation with Hamas, whose arsenal includes long-range rockets that can reach Israel's heartland and its business capital Tel Aviv.
But far-right cabinet ministers pressed for a firmer response to silence rocket fire.
Foreign Minister Avigdor Lieberman quit an alliance with Mr Netanyahu's party citing dissatisfaction with Mr Netanyahu's policy on Gaza.
The surge in violence has raged since the kidnapping and killing of three Israeli youths last month in the occupied West Bank and a Palestinian teen last week, in an attack for which Israel has arrested six Jewish suspects.
Air raid sirens wailed as far north as the outskirts of Tel Aviv and Jerusalem last night.
Israeli police said those were false alarms, but the military said rockets had triggered alerts as far as 80km, the farthest of the latest crisis.
Two Israelis were injured in yesterday's rocket strikes.
Lt Col Lerner told reporters yesterday that Israel had called up several hundred reservists and was prepared to mobilise a total of 1,500.
He said the intensity of Hamas rocket fire meant "the Israeli military is talking about preparedness for an escalation".
Hamas claimed responsibility for firing rockets at Israel yesterday for the first time since a 2012 war with Israel that ended in an Egyptian-brokered truce.
The group's death toll yesterday had also been the highest Hamas suffered since the 2012 fighting.
Hamas spokesman Sami Abu Zuhri accused Israel of committing a "grave escalation" in violence and threatened to retaliate, saying Israel would "pay the price".
TOP STORIES

RTÉ News – News Headlines