Sunday 27 July 2014 10.20
1 of 5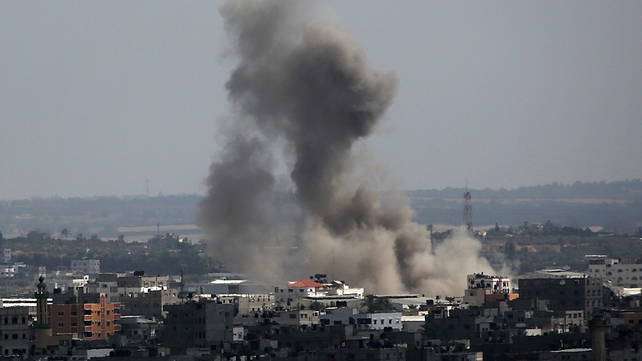 Shelling and rocket fire has resumed in Israel – Hamas conflict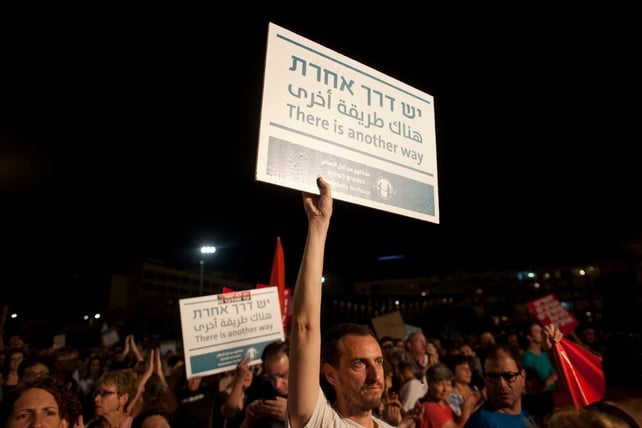 Israelis in Tel Aviv take part in a protest against Israel's military operation in Gaza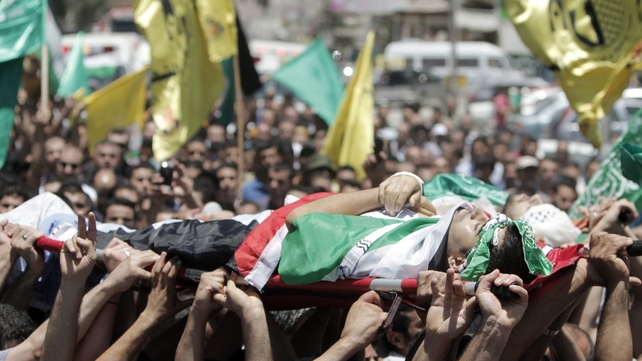 Funerals held of Palestinians who have died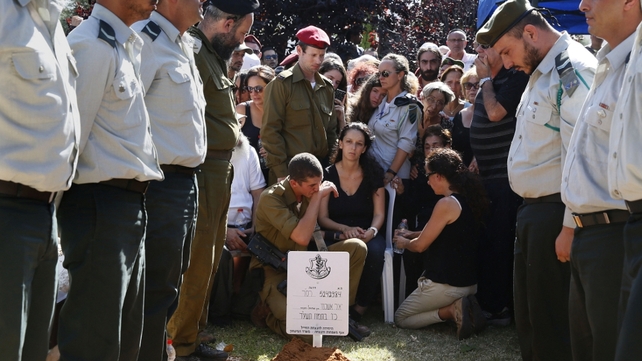 Wife of Israeli soldier mourns his death at funeral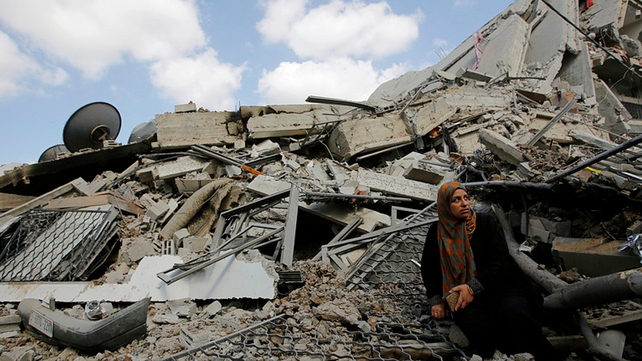 Palestinian woman peruses the rubble that was formerly her home Pic: courtesy of EPA
Shelling and rocket fire has resumed in Gaza and Israel after the extended humanitarian ceasefire was ignored.
Hamas, which dominates the coastal enclave, had said it would only accept the truce if Israeli troops left the territory.
The Israeli army said that because of flagrant violations of humanitarian remission by Hamas that it was resuming its attacks.
Israeli ministers had signalled that chances were remote for a comprehensive deal to end the 20-day-old conflict with Hamas and its allies.
At least 1,050 Gazans, mostly civilians, have been killed, and 42 soldiers and three civilians in Israel have died.
Earlier, a ceasefire came after an Israeli cabinet meeting: " At the request of the United Nations, the cabinet has approved a humanitarian hiatus until tomorrow at 2400.
Yesterday, Gazans took advantage of the lull in fighting to recover their dead and stock up on food supplies.
They poured into the streets after the ceasefire began at 8am (0500 GMT)to discover scenes of massive destruction in some areas.            
The positions of both Israel and Hamas regarding along-lasting halt to hostilities have remained far apart.
              
Hamas wants an end to an Israeli-Egyptian blockade of Gaza before agreeing to halt hostilities.
Israeli officials said any ceasefire must allow the military to carry on hunting down the Hamas tunnel network that criss crosses the Gaza border.
              
Israel says some of the tunnels reach into Israeli territory and are meant to carry out attacks on its citizens.
Other underground passages serve as weapons caches and Hamas bunkers.
The IDF said it had uncovered four such tunnel shafts inside Gaza during the truce yesterday.
              
The official said that with the truce in effect, troops had found it easier to operate against the tunnels as the immediate threat to their safety was diminished.
Diplomatic effort                            
On the diplomatic front, international efforts to bring an end to hostilities and secure a longer-lasting truce were being led by U.S. Secretary of State John Kerry in Paris.
              
Mr Kerry met the foreign ministers of France, Italy, Britain, Germany, Turkey and Qatar.
              
"All of us call on the parties to extend the humanitarian ceasefire that is currently under way," French Foreign Minister Laurent Fabius said after the meeting.
              
But an Israeli security minister, Gilad Erdan, said a definitive deal looked remote, with no representatives from Israel, Egypt or the Palestinian Authority at the Paris talks.
              
The deputy leader of Islamic Jihad, a militant group allied to Hamas, said Egypt's mediation efforts were still being considered, but improvements were being sought and, in the meantime, the fight would go on.
              
"We are still open to the Egyptian initiative and there are hot contacts to improve it … We are going to pursue the battle until the blockade is ended." 
The resistance carries our demands," he said in a text message to reporters.
TOP STORIES

RTÉ News – News Headlines