Wednesday 15 January 2014 18.58
1 of 3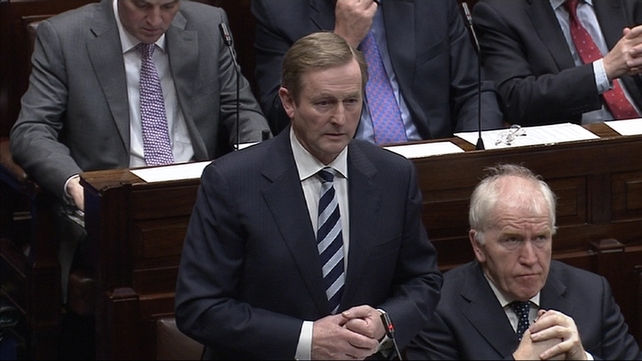 Taoiseach Enda Kenny said he was aware of the costs associated with establishing Irish Water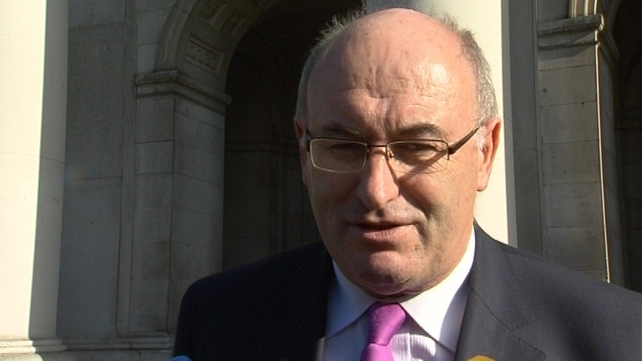 Phil Hogan said €2bn would be saved following the setting up of the company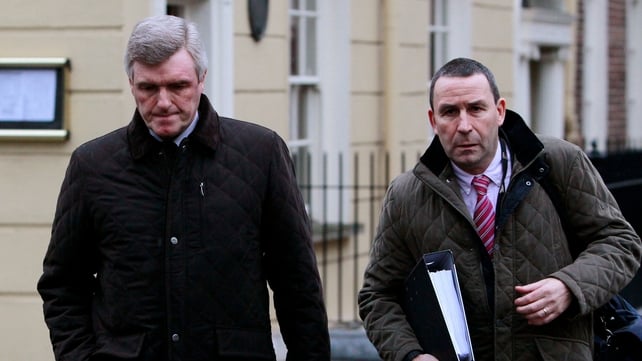 Executives from Irish Water, including John Tierney (left), face a second day of questioning at Leinster House
The Taoiseach has told the Dáil he was aware the start-up cost of Irish Water would be €180m. 
Mr Kenny was responding to Fianna Fáil leader Micheál Martin who said Irish Water had been established under a cloud of secrecy.
Deputy Martin said the Taoiseach's response was disgraceful and downright disingenuous.
Enda Kenny said he took full responsibility for the policy decision of moving to a single utility which would save over €1bn.
He said he answered Deputy Martin's question honestly.
Sinn Féin leader Gerry Adams said the answer was a bad joke.
Deputy Adams said the department had been getting detailed breakdowns on the information while deputies were refused requests for information. 
Earlier, Minister for the Environment Phil Hogan defended the management of Irish Water, saying he believed the utility would give good value for money.
Irish Water will become the focus of further scrutiny this evening when Chief Executive John Tierney and officials from the Commission for Energy Regulation appear before the Public Accounts Committee.
Executives from Irish Water yesterday faced questions at the Oireachtas Environment Committee about the €50 million the company spent on consultants last year.
Mr Tierney told yesterday's committee that staff at the company could be paid performance bonuses, but that there is a pay freeze until 2016.
Today, Opposition TDs widely criticised the bonus system at Irish Water and comments from Mr Hogan that he does not "micromanage" the semi-State company.
PAC Chairman John McGuinness said it would be scandalous if the minister did not "micromanage" the utility.
Sinn Féin leader Gerry Adams said the minister was incompetent and should resign, while the Socialist party's Joe Higgins said Mr Hogan's comments were breathtaking.
On the issue of bonuses, Independent TD Mattie McGrath questioned how they could be justified when the public sector is enduring pay freezes.
Minister for Social Protection Joan Burton said the country could not go back to a bonus culture.
She said she was astonished to hear news of Irish Water staff getting bonuses, saying she believed there was no room for bonuses in the current climate.
A Government spokesman also said that it was not Government policy to pay bonuses in semi-state companies. 
Minister of State at the Department of Finance Brian Hayes was also critical of the bonus payments, but he defended Mr Hogan, saying "he had acted totally correctly in this entire saga".
Mr Hayes added that Irish Water had not handled this well and information should have been out in the open before now.
Speaking to reporters this morning, Mr Hogan said the issue of bonuses was one for Irish Water and the Department of Public Expenditure who decide public pay policy.
He also reiterated that he would not "micromanage" a semi-State, no more, he said, that any other minister, adding you have to allow professionals get on with their jobs.
Mr Hogan also reiterated that €2bn would be saved following the setting up of Irish Water.
Asked if it was a PR disaster for the company, he replied you cannot make an omelette without breaking eggs and that the costs would compare favourably internationally.
He also said you cannot set up a new utility on fresh air.
PAC chairman calls for more scrutiny
Mr McGuinness of the PAC said the veil of secrecy surrounding Irish Water is unacceptable and the Comptroller and Auditor General should audit its books.
He said significant questions still need to be asked of Irish Water executives when they appear before the PAC today.
Speaking on RTÉ's Today with Sean O'Rourke, Mr McGuinness said: "The Comptroller and Auditor General does not audit the books of Irish Water and I believe that he should."
PAC member Mary Lou McDonald said Mr Hogan needs to attend the Public Accounts Committee to give an account of what he knew about spending by Irish Water.
Speaking on RTÉ's News at One, the Sinn Féin TD said she finds it astonishing and unbelievable that Mr Hogan was not alerted by his senior officials that Irish Water was spending €50 million on consultants.
She said that the minister's story was not plausible.
Mr Hogan has said he was aware of the overall spend to establish Irish Water but he was not aware of the level of spending on consultants.
Fianna Fáil TD Sean Fleming, who is also a member of the PAC, said he did not accept that Mr Hogan did not have more details on spending by the company.
He accused the Government of a lack of transparency and of cronyism in its dealings with Irish Water.
"It is not credible that the minister didn't ask what the €180m set-up costs were about and if he didn't ask it's even more worrying again. There is no openness provided for in this legislation," he said.
TOP STORIES

RTÉ News – News Headlines