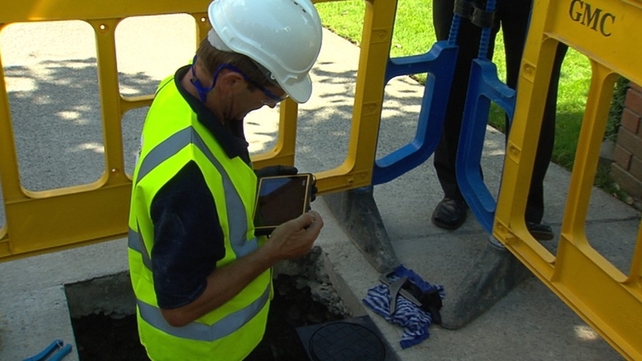 The benchmarked pay increase mechanism at Irish Water is separate and additional to the payment of performance bonuses
Staff at Irish Water can benefit from an annual salary increase if it can be shown that pay has risen at rival or similar firms, as part of their controversial pay reward system, RTÉ's This Week has learned.
The 'Pay Progression' mechanism was agreed between management at Irish Water's parent company Ervia and unions last year.
The benchmarked pay increase mechanism is separate and additional to the payment of performance bonuses, which emerged last month.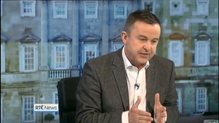 RELATED AUDIO & VIDEO
Similar to the bonus system, once a salary increase has been approved, then staff who only "partially meet" their work targets are also eligible to benefit from a pay rise, according to details of the mechanism seen by RTÉ.
A spokesperson for Ervia said there was no automatic entitlement to pay increases.
She said the pay increase mechanism would not apply until after the current pay freeze at Irish Water and its parent company, which is due to be reviewed in 14 months' time at the start of 2016.
Any pay increase would depend on whether there was a growth in salaries at comparable firms and whether the company felt it could afford it, she said.
No pay increases had been paid yet, she said, nor would the mechanism kick into action until after the current pay freeze at the earliest.
The potential salary increase is calculated using an annual survey from private consultancy Towers Watson, which examines pay at other firms.
If there is "positive market movement" then this is reflected in any possible pay rise by Irish Water and Ervia staff, if it gets board approval.
On top of the basic salary increase, there is also a further salary top-up for those who receive a positive performance rating.
In the event of the company approving a pay increase, it means that in any calendar year some staff could benefit from a performance bonus, plus a salary increase, plus a top-up on that basic bonus depending on both performance and their existing salaries.
Staff at all grades below CEO and directors reporting to the CEO are can benefit from the salary increase mechanism.
The only staff who are excluded from the salary increase mechanism are those who fail to meet any of their annual targets or those whose pay is already 20% above the market median level.
The extent to which staff can benefit from the possible pay increase depends on where they are within their salary range.
Salaries at Ervia and Irish Water are roughly based on a range of between 80% and 120% of the market median salary.
In the event of a pay rise being sanctioned, there are additional top-ups for those who are at the lower scale to median of the scale and who also achieve a high annual performance rating. 
In some cases, staff who perform poorly, but who are already on the higher level of the scale, can be awarded a salary increase, but with a deduction of 1% or 2% taken off the increase.
In that scenario, if the recommended pay increase was 5% they would just get a 3% or 4% increase in that year.
However, if the recommended pay hike was just 1% or 2% then the minus element would cancel out the gain.
However, there is no mechanism to lower salaries at Irish Water or Ervia if the Towers Watson survey shows that pay at similar companies has fallen. In this scenario, there would be no pay increase, the spokesperson said.
The 'Pay Progression' and performance bonuses were part of a suite of pay-related reforms brought in at Ervia and at Irish Water last year, which Ervia has said led to savings of €34 million over several years.
It led to the withdrawal of annual guaranteed increments.
'Huge responsibility' to get it right – Hayes
Meanwhile, Fine Gael MEP Brian Hayes has said it is essential for the Government to establish Irish Water as a public utility so that the cost of providing water services does not add to Ireland's debt. 
Speaking on RTÉ's The Week in Politics, Mr Hayes said "a huge responsibility" rests with the Government to get the matter right.
The Government is set to make a final decision on how to implement the charges this month, following nationwide protests yesterday against the payments.
Sinn Féin deputy leader Mary Lou McDonald said she was not going to pay her water charges due to what she termed "utterly outrageous threats" by the Government.
Speaking on the same programme, Ms McDonald said: "It's not because I can't pay.
"It's not because I object to paying fair taxation, but they have frightened the life out of families the length and breadth of the country."
Fianna Fail's environment spokesman Barry Cowen has claimed that "public confidence is shot in the vehicle that is Irish Water".
Mr Cowen said his party agrees "with the concept of water charges, but want a fair and equitable system".
Meanwhile, a senior Labour TD has called for the Taoiseach and Tánaiste to take control of the controversy surrounding water charges.
Former minister of state Joe Costello said the Government must rethink the establishment of Irish Water before water charges can be imposed.
Speaking on This Week, Mr Costello described the debate surrounding the establishment of Irish Water as "totally inadequate".
He said "poor communication" had led to many people worrying about charges.
"Very few people understand what's actually there [in terms of charges] and I think that has been a failure as well," he said.
The Dublin Central TD questioned whether Irish Water was fit for purpose, describing the body as "an extravagant quango that's looking for performance-related bonuses before it's set up".
He also said that it might be useful for the Government to consider a referendum that would enshrine Irish Water as a national public utility within the Constitution.
Mr Costello said he did not have concerns that Irish Water would be privatised by the current Government or any future governments.
However, he said there are public concerns that the company could possibly be privatised down the line and to allay those fears it might well be useful to consider a referendum.

RTÉ News – News Headlines