Friday 28 March 2014 13.29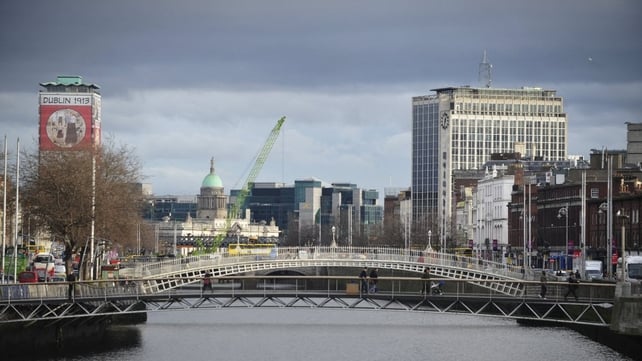 The 'Post-Troika – what next for Ireland? conference' attracted an audience of over 250 delegates in the Aviva Stadium
Cutting taxes may be an option for Ireland in upcoming budgets but the Government must be prepared to accept that may result in a drop in tax receipts and cuts to public services. 
That is according to the Secretary General of the European Commission, Catherine Day, who was speaking at a conference in Dublin hosted by the Commission representation in Ireland and Dublin Chamber of Commerce.
Finance Minster Michael Noonan and other Cabinet colleagues have recently floated the idea that a reduction in the income tax burden may be of the things that happens next. The EU's most senior civil servant, Catherine Day, said the Commission has noted that discussion.
The one day "Post-Troika – what next for Ireland? conference", attracted an audience of more than 250 delegates in Dublin's Aviva Stadium. 
Other speakers at the conference included the Minister of State for Public Service Reform and the Office of Public Works, Brian Hayes and the Department of Finance's chief economist John McCarthy.
John McHale, Chair of the Fiscal Advisory Council, Professor Frances Ruane from the ESRI  and David Begg, the ICTU's general secretary were also key speakers. 
Catherine Day told the conference that Ireland has reached the point where it can "move from fire-fighting to re-building". 
"The new EU budgeting process recognises that our economics are inter-dependent. This process works through a close partnership between the Commission and each member state," she stated.
Ms Day said that EU economic governance has been strengthened as a result of the economic crisis and subsequent restructuring process. 
"We now have quite a sophisticated process for assessing member states' economic and fiscal policies. Recognising that our economics are interdependent, the process works through a close partnership between the Commission and each member state as well as through a cycle of decision making at EU level involving both the Council and the European Parliament," she said. 
Minister Brian Hayes told the conference that Ireland must focus more intensively on the domestic economy, particularly on those sectors where most jobs can be created. 
"While some tough decisions still have to be made, the good news is that Ireland has regained much of its lost competitiveness and is now well positioned to benefit from a return to growth in key trading sectors," he said.
"With the EU/IMF programme over, Ireland has now entered a new phase of its relationship with the EU. Initial signs of recovery at EU level provide evidence that the comprehensive reforms undertaken over the past number of years are starting to deliver. Key challenges still need to be addressed, including further reducing the Government deficit and debt levels and the high level of unemployment, but Ireland is now emerging from the crisis on a much more sustainable footing. The challenge is to ensure that this recovery is sustained," Minister Hayes said. 
TOP STORIES

RTÉ News – Business Headlines