Monday 20 January 2014 01.46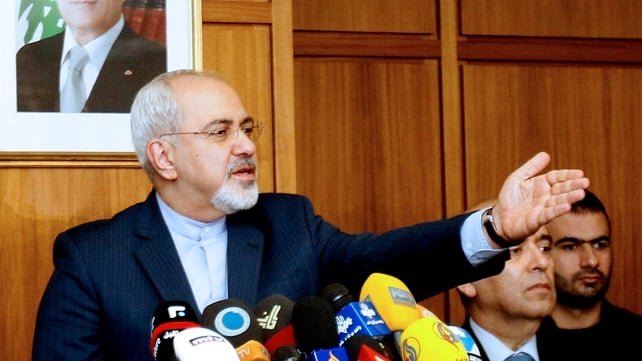 Mohammad Javad Zarif says the goal of talks is to establish a transitional body with full executive powers
Iran will attend this week's Syria peace conference after it pledged to play a "positive and constructive role" in efforts to end the war.
UN secretary-general Ban Ki-moon said he made a late invitation after intensive talks over two days with Iran's Foreign Minister Mohammad Javad Zarif, who agreed to attend.
Iran's involvement means all key countries linked to the worsening conflict will be among 40 nations at the opening of the peace conference in Montreux, Switzerland on Wednesday.
It is also a new boost to efforts to end the three-year-long civil war after the opposition Syrian National Coalition decided on Saturday to attend the conference.
The United States and other Western powers had opposed Iran's attendance at the meeting as long as it refused to accept a communique adopted by the major powers in Geneva on 30 June, 2012 calling for a transitional government in Syria.
Up to this weekend, Iran had said it would attend the peace conference as long as there were no conditions.
Talks between President Bashar al-Assad's government and the opposition are due to start in Geneva on Friday.
Iran is a key financial and military backer of President Assad while Mr Ban has already invited Saudi Arabia, a major supporter of the Syrian opposition.
Mr Ban told a press conference that "Iranian Foreign Minister Mohammad Javad Zarif and I agree that the goal of the negotiations is to establish, by mutual consent, a transitional governing body with full executive powers."
The UN secretary-general added "He assured me again and again that Iran, if they are invited, then they will play a very positive and constructive role."
Mr Ban had joined Russia in arguing for Iran's presence at the meeting.
"I believe strongly that Iran needs to be part of the solution to the Syrian crisis," Ban said.
He added that he had embarked on the talks with Minister Zarif in a bid "to create the best possible atmosphere for the success of this crucially important undertaking."
There will now be 40 countries and a group of regional bodies at the opening meeting, which will be the most intensive diplomatic effort yet to end a war that the UN says has left well over 100,000 dead.
Mr Ban said that as host of the peace conference, he also made last-minute invitations to Australia, Bahrain, Belgium, Greece, Luxembourg, Mexico, Netherlands, South Korea and the Vatican.
He said the extra countries would be "an important and useful show of solidarity in advance of the hard work that the Syrian government and opposition delegations will begin."
The United States and Russia played key roles convincing pressing the opposition and President Assad to send delegations to the conference, which has been pushed back several times.
They will attend alongside the other permanent members of the UN Security Council including China, Britain and France and additional countries suffering fallout from the war, such as Iraq, Jordan and Lebanon.
Mr Ban said it was vital for the ministers at the Montreux meeting to urge the Syria protagonists "to act and negotiate in good faith for their own future."
"This violence must stop for humanity and for the future of Syrians," said the head of the United Nations.
It has launched its biggest ever operation to help refugees from the conflict and millions inside Syria who have been left homeless and without food.
More than 2.3 million people have fled the country and some 6.5 million are displaced inside Syria.
The Tánaiste and Minister for Foreign Affairs Eamon Gilmore will also join his european counterparts in Brussels today to discuss the worsening humanitarian crisis.
TOP STORIES

RTÉ News – News Headlines