Friday 07 March 2014 07.19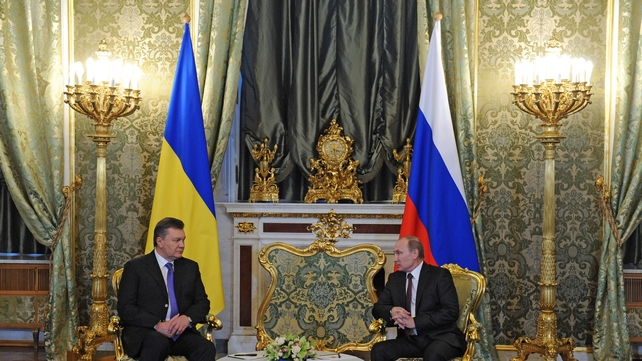 Viktor Yanukovych pictured with close ally Vladimir Putin in December (Pic: EPA)
Interpol has said it is considering a request from Ukraine's new government to issue an arrest warrant for ousted president Viktor Yanukovych.
The international police organisation confirmed it had received a request from authorities in Kiev on Wednesday to issue a "Red Notice", or international wanted persons alert, for Mr Yanukovych on charges including abuse of power and murder.
The request "is being assessed by Interpol's office of legal affairs to determine whether it conforms with the organisation's constitution and rules", it said in a statement.
"All Interpol member countries have been informed of the ongoing review."
Ukraine's interim prosecutor said on 26 February that the government in Kiev had requested an international arrest warrant for Mr Yanukovych over the "mass murder" of protesters during the anti-government demonstrations that toppled the pro-Russian leader four days earlier.
At the time, Mr Yanukovych's whereabouts were unknown, though he resurfaced in Russia two days later.
Russia is an Interpol member, but the organisation stressed that it "cannot compel any member country to arrest the subject of a Red Notice".
Since Mr Yanukovych's removal, set in motion by his refusal to sign a landmark association accord with the European Union, tensions between the West and Russia over Ukraine's future have escalated to levels not seen since the Cold War.
Russian troops have effectively taken control of Crimea, a predominantly ethnic Russian region, raising the possibility of Ukraine splintering.
In response, the EU and United States have imposed various sanctions on Russia, including targeted visa bans by the US and the suspension of visa and economic talks with Brussels.
Russia to 'respect' Crimea vote
Russia's parliament will respect the "historic choice" to be made by Crimea when the Ukrainian region's people vote in a referendum on joining Russia later this month, the speaker of the Russian lower house has said.
"We will respect the historic choice of the people of Crimea," State Duma speaker Sergei Naryshkin said.
His comments are seen as implying that the Russian legislature would ratify a vote in favour of Crimea joining Russia.
"We support the free and democratic choice of the population of Crimea," he added.
TOP STORIES

RTÉ News – News Headlines