Saturday 03 May 2014 08.58
1 of 3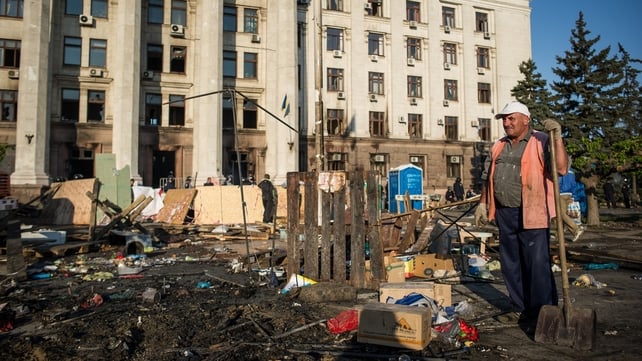 A cleaner looks at the remains of the destroyed pro-Russian protester camp near the trade union building in Odessa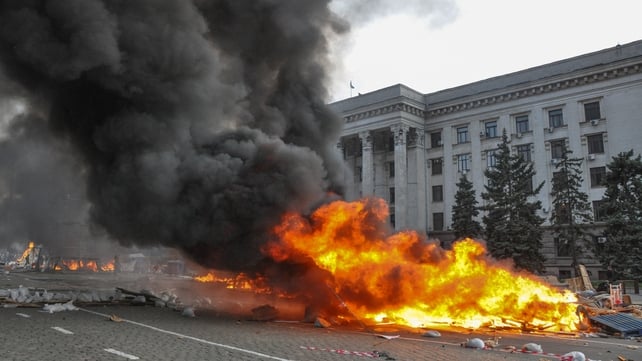 Ukrainian supporters of a 'Single Ukraine' burnt a tent camp of pro-Russian protesters in Odessa yesterday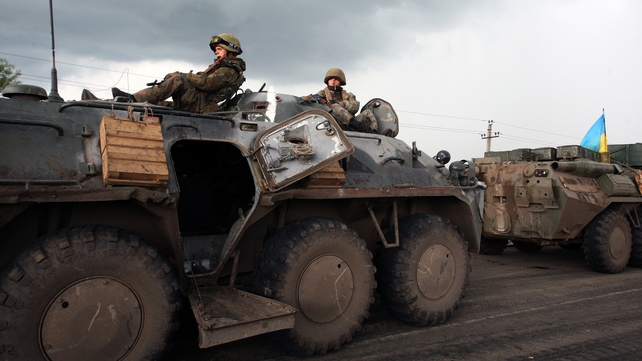 Unmarked soldiers wait on the road as separatists block the Kramatorsk road
More than 130 people have been detained in Ukraine's southern port city of Odessa after dozens were killed yesterday.
A fire and street fighting involving pro-Russian and groups supporting the government in Kiev left more than 30 people dead.
Local police chief Petro Lutsiuk said those detained could face charges ranging from participating in riots to premeditated murder for yesterday's street battles, which resulted in the city's trade union building being set on fire.
Most of those killed either choked on smoke or died after jumping out of the building's windows, officials said.
The victims are believed to have been mainly pro-Russian activists who had been using the building as a headquarters.
Police quickly lost control yesterday as hundreds of men, including soccer fans, staged running battles across the city.
Chief Lutsiuk said the police would do everything "to prevent such tragedies in the future".
The United States condemned the "unacceptable" violence on the bloodiest day since Kiev's Western-backed government took power.
It urged both Ukraine and Russia to restore order.
Authorities in Kiev have admitted the police are "helpless" to contain the pro-Moscow insurgency that has swept through more than a dozen towns and cities in the eastern part of the country.
The Ukrainian government and the West believe that the Kremlin is fomenting the chaos in a bid to destabilise the former Soviet republic ahead of planned elections on 25 May.
Moscow denies the charges and has warned that Kiev faces "catastrophic consequences" if it continues what it sees as a military operation against its own people.
Russia has an estimated 40,000 troops on the Ukrainian border and Kiev has reintroduced conscription and put its armed force on full combat alert, fearing an imminent invasion.
Ukraine's army has broadened a military offensive to retake control of rebel-held towns and cities in the chaotic east of the country, the Ukrainian interior ministry said.
"The active phase of the operation is continuing. We will not stop," said Arsen Avakov on his Facebook page.
"Overnight, forces participating in the anti-terrorist operation in Kramatorsk took control of the TV tower that was previously held by the terrorists," added the minister.
Kramatorsk lies about 17km to the south of the flashpoint town of Slaviansk, where the army mounted a major offensive yesterday.
The operation claimed at least nine lives, including two servicemen as rebels shot down a pair of army helicopters.
Meanwhile, the OSCE team captured by pro-Moscow rebels in eastern Ukraine has been freed, Russian President Vladimir Putin's special envoy said.
"All the 12 people who are on my list have been freed," Vladimir Lukin said, according to the state RIA Novosti news agency.
TOP STORIES

RTÉ News – News Headlines